Highway 101 Closed at Big Lagoon; Overturned Semi Spills Big Boulders Everywhere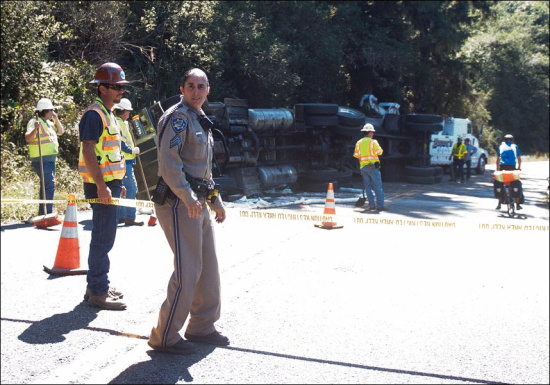 Above photos by Kim Sallaway.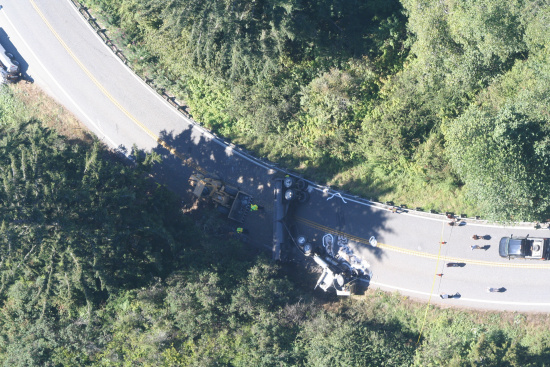 Aerial view of the accident provided by the CHP
UPDATE 9:02 P.M.: CHP press release:
On Tuesday, August 27, 2013, at approximately 10:30 am, 52 year old Marc Joseph Leonard of McKinleyville was driving a Peterbilt semi-truck while pulling a trailer loaded of large boulders northbound on US-101, south of Orick. The truck was in route to the Crescent City Harbor. As the semi-truck began to negotiate a left curve in the roadway, the load shifted causing the truck/trailer combination to overturn onto its right side. The truck came to rest on its right side partially within the northbound lane and the trailer came to rest on its right side fully blocking both northbound and southbound lanes of US-101. Mr. Leonard was transported by ground ambulance to a nearby hospital with moderate injuries. Mr. Leonard's seatbelt usage is being investigated and DUI is not believed to be a factor in this collision. US-101 northbound and southbound near the collision scene were closed for several hours while the collision scene was being processed and the semi-truck and trailer were being recovered.

The California Highway Patrol (CHP) would like to thank Calfire, Caltrans, Arcata-Mad River Ambulance, and Fish & Wildlife for their prompt response and assistance with processing the collision scene and providing patient transport.

The CHP reminds all motorists to consider several factors when determining a safe driving speed while traveling Humboldt County's rural roadways. These factors include, but are not limited to, weather conditions, posted speed limit, vehicle/load limitations, vehicular traffic, pedestrians, and time of day.
UPDATE 1 P.M.: Photos from Thomas Norris [next two on the bottom] show incredibly fast cleanup. Traffic is now moving southbound but only that traffic that was boxed in.
According to Kim Sallaway, bicyclists were let through first and then the boxed in traffic. But traffic below Big Lagoon is being turned around or told to wait. Sallaway speculates that the boxed in traffic was let through to allow equipment access to the accident.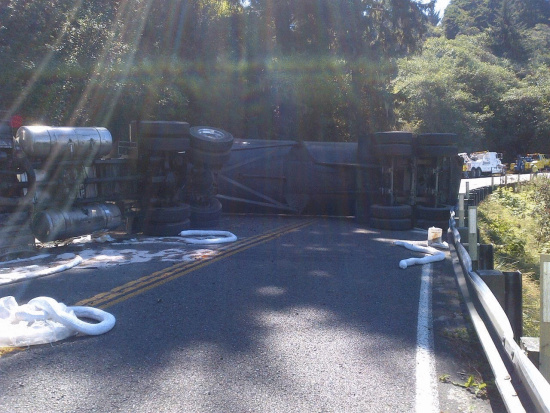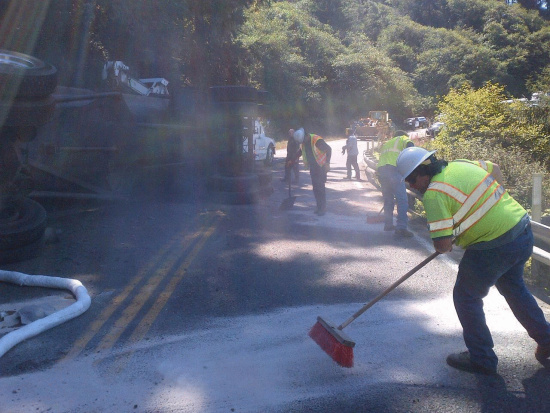 UPDATE 12:53 P.M.: According to Thomas Norris, the southbound lane is now opened. Traffic has started moving through.
UPDATE 12:50 P.M.: According to Kim Sallaway (Southern Humboldt Photographer), who is stuck in the road the southbound lane should be opened momentarily according to what law enforcement is telling him.
UPDATE 12:47 P.M.: According to a reader, Thomas Norris, who is at the slide, there are two loaders moving the boulders out of the road. A device to pump the diesel from the truck is on its way. Workers want to avoid spilling the diesel as they upright the truck. In about 10 minutes, those who have been trapped at the slide, he says, will be allowed through but most northbound traffic (that which is being stopped south of the accident) won't get through for at least another two hours.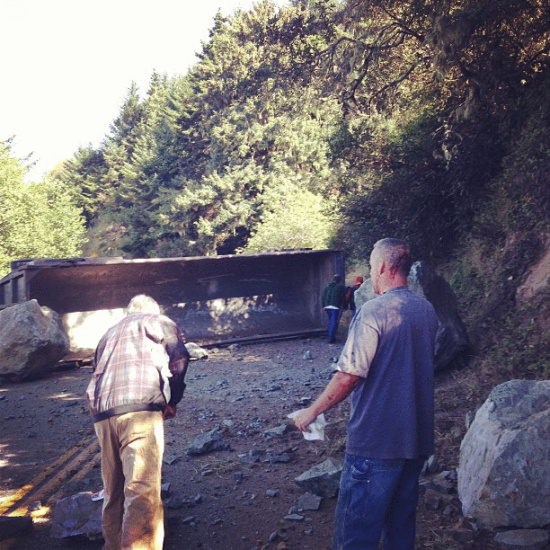 UPDATE, 11:52 a.m.: Bobak Azarbayejani, who is traveling to north to Seattle, came across the accident. He said there were "only two cars ahead of us. We didn't see it actually happen but my friend offered some bandages and I helped the driver find his cell phone by calling it." He provided the photo above.
LoCO will update with more information as soon as possible but you can follow CHP dispatch here.–Kym Kemp
[googlemaps https://maps.google.com/maps?f=q&source=s_q&hl=en&geocode=&q=41.204821+-124.110256+&aq=&sll=37.269174,-119.306607&sspn=14.358064,26.608887&t=h&ie=UTF8&ll=41.204821,-124.110256&spn=0.849863,1.663055&z=10&output=embed&w=100%&h=350]
###
Callers to KHUM alert us to what the LoCO's CHP Watch already knew: Highway 101 is completely closed near the north end of Big Lagoon due to an overturned semi. They're trying to call in additional help to move the big boulders the truck spilled all over the road, and the CHP thinks the road is going to be closed for quite a while.
Updates as they come through CHP dispatch here.
###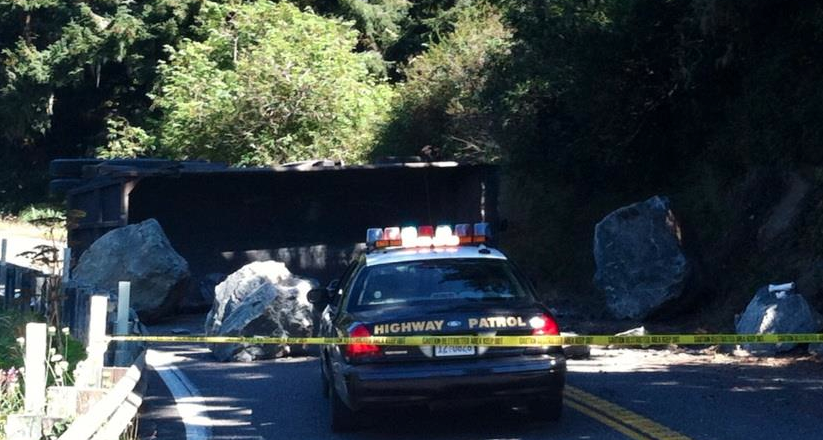 Above: An additional photo provided by friend o' the LoCO and drummer of The Trouble Sam Kaplan-Good who knows something about rock. This roadblock is keeping the band from getting to a gig at Britt Fest in Jacksonville, Oregon. No really, Oregon! It's not their fault!