Tricky Bidness–Marijuana in Humboldt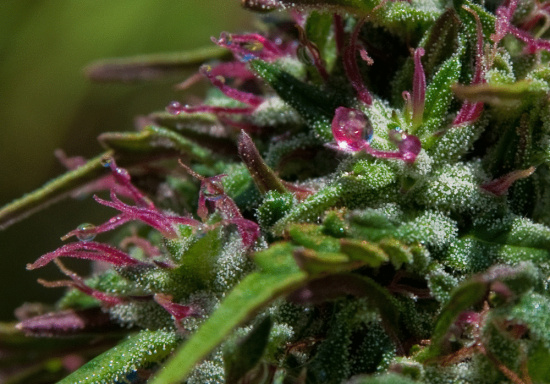 Bud after a rain. (Photo by Kym Kemp.)
"The butcher, the baker, the candlestick maker–They're all growing a little bit of pot. Your grandmother's growing," says Nancy Noll, a homesteader from Southern Humboldt in the latest documentary to come out of this area. The new film, Tricky Bidness, takes the viewer from the bottom to the top of Humboldt both geographically and metaphorically.
The film offers a variety of local growers and anti-growers opinions. It provides a diverse group of interviewee's from a small indoor grower to a man who turned his neighbor in for growing. Not long after Noll's statement depicting the sense visitors sometimes have that the entire community grows, a narrator provides a broader vision of the whole county saying, "The vast majority of residents aren't growers but the marijuana scene affects everyone."
The film takes the county from the Back-to-the-landers through Measure I in Arcata. It focuses on the problems illegality creates. Then it discusses legalization and its ramifications.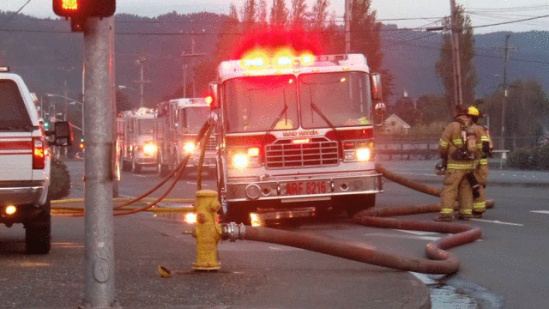 "The Arcata Fire Department has been at the forefront of dealing with fires that stem from indoor marijuana grow operations," claims the movie's producers. (Photo JoAnn Schuch)
The film pulls the viewers along, offering a variety of viewpoints that provides a mini lesson on Humboldt and marijuana. In the end, the compelling documentary offers nothing earth shattering but instead provides an excellent starting place for understanding the problems, and the diverse perspectives this county faces.
You can watch the movie free for a limited time here. Or like the Facebook page here.
—————————
(Full disclosure–a couple of Kym Kemp's photos, including the one on top are used in the movie.)