Brother of Missing Hiker Says They've Found Her 'Halfway Camp'–Still Searching for Her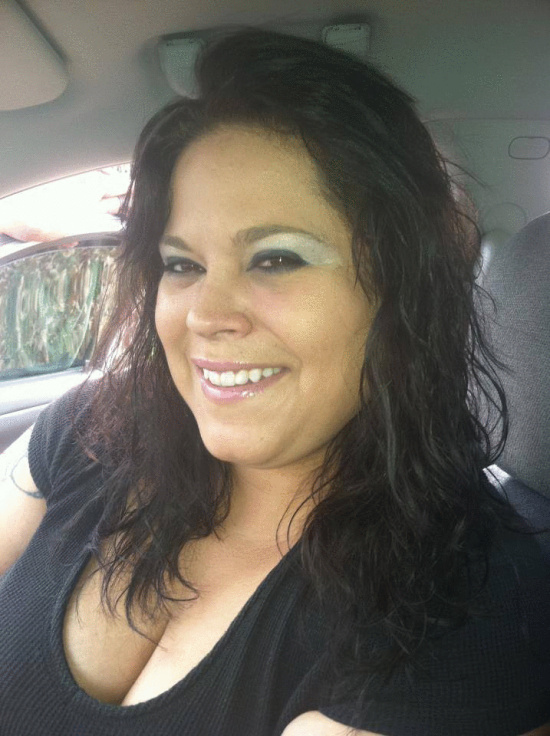 Anna Rodriguez, a hiker missing in the wilderness near Slate Creek between Orleans and Weitchepec.
"Me and my nephew whose mom is lost are both going to walk out there [Saturday] where we think her camp is," explained Jesse Rodriguez, a brother to missing hiker Anna Rodriguez Flasnik, in an interview late Friday evening. (See earlier story here.) Flasnik had planned to camp for several months in a remote location between Orleans and Weitchepec (See map below) but didn't return when she was expected.
According to her mother, Jacqueline Zumwalt, when Flasnick went into the area she was "on a detox mission. She quit fat, McDonalds, sugar–all that stuff." She had been coming in and out of her camp to resupply with food every few weeks but then she failed to show up on August 9th as planned. At first her brother just returned every day to the trailhead. Eventually, he and others began to search the rugged area for Flasnik. The sheriff's office looked, too, for some time.
For days, Rodriguez and other friends and family have continued searching for the missing woman. They've combed through areas that they believed she should have been camping in. "We've searched the right hand side of the canyon," he said. "That is where she told me she was but apparently she gave me bad directions." He and others planned to search the left side of the canyon yesterday.
They have found the camp which Flasnik used to overnight in before hiking all the way to her base. Her brother described the situation, "We found her halfway camp in the creek. It was dug down to the current water level." He believes this means that she must have been there relatively recently because otherwise the camp would have been further up away from a creek that would have had higher flow levels earlier in the year. "The fire," he added, "wasn't like old, old. It was a month and a half at most."
Rodriguez's brother explained with calm confidence, "I'm a tracker. We're [Anna and he] are part of the Mescalero Apache tribe. We were raised in the woods." He believes in Anna's abilities but he's concerned. "Hopefully, she is still alive but I'm kind of worried… . She was supposed to be back around a month ago. She might have fallen and got hurt. She might have got out and got picked up hitchhiking by someone bad."
Jesse Rodriguez said that searchers have been combing the area and yelling but they haven't heard a response. "People can't hear you from a couple football fields away because [the vegetation] is so thick," he explained. Several searchers–including some professional trackers–were back out in the area today. Searchers have also set up a base camp at the mouth of Slate Creek.
Speaking quietly on Friday before he set out to look for his sister, Rodriguez said, "We hope to get more volunteers to help us search the canyon. We need help. There is a lot of land to search."
Flasnik's mother, Jacqueline Zumwalt, speaking late Saturday night noted the need for "physically fit people who are able to hike the canyon… ." She added, "We also need people to stay at base camp and be ready to feed people who go out."
The cost of feeding the searchers and buying gas and equipment is adding up. "It is costing a bare minimum of $200 per day," she noted with worry coloring her voice. "The ropes alone for the climbing gear were $180." However, they have gotten some help. "Some people have been going out to base camp," she said, "and taking them fresh food and ice and that helps a lot because the food is really the big expense."
The searchers are trying to cover a lot of ground quickly. They're concerned that time may be running out–that, in fact, it may already have run out.
"We're waiting on pins and needles," Zumwalt said as she waited for a phone call late Saturday night from her son, "to know whether the searchers are safe or if they've found Anna."
As of early Sunday morning, there has been no news of Anna Flasnik. Time is running out.
——–
For more information on how to help call 834-8736. Or send donations to Olivia Wilder/PO Box 536/ Eureka, Ca 95502.
Below is the flyer being put out by friends and the rough map of the area Anna Rodriguez might be in.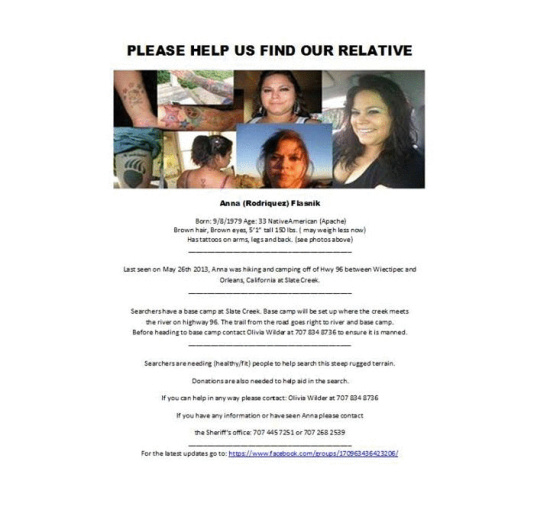 [googlemaps https://maps.google.com/maps?f=d&source=s_d&saddr=Weitchpec,+CA&daddr=Orleans,+CA+to:Slate+Creek+Road,+Orleans,+CA&hl=en&geocode=FVZ7dAIdFlyg-Ckllpg5w3XRVDEok40Ukb-Ofg%3BFaYzdgId3-ai-Cmb4XS336LRVDH1a1vbg8TMgg%3BFUSEdQId0Uyh-CkfZ16AR5_RVDEdgak_NL6ZJQ&aq=3&oq=slate+cree&sll=39.962231,-122.471929&sspn=3.460837,6.652222&t=h&mra=ls&ie=UTF8&ll=41.243672,-123.625104&spn=0.114451,0.166631&output=embed&w=425&h=350]
Blue line shows from A) Weitchpec to B) Orleans with a point C) showing where Slate Creek Rd is.