Redway School Starts Monday–Parking Changes in Effect

Redway School Parking Lot
Redway School Press Release:
Redway Elementary School will begin on Monday, August 26th. Due to construction, the following parking, drop off and pick up plan will be implemented. The primary parking for parents wishing to park and walk their students to Redway Elementary School will be in the parking lot at the Jehovah Witness Kingdom Hall at 128 Briceland Road. A secondary lot will be at the Baptist Church at 553 Redway Drive. Birdy Lane is open to one way traffic from Whitmore to Empire with ingress at Whitmore. Students may be dropped off at the baseball field. There will be a staff or board member to facilitate traffic. This is a drop off point only; no parking will be allowed at the baseball field.

The parking lot in front of the office at Redway School is for staff and busses only. Staff parking will also be in the lot behind the gym as construction permits.

This parking plan is temporary to permit construction. The district will notify parents when the construction is completed and parking will resume in the new upper parking lot at Redway School.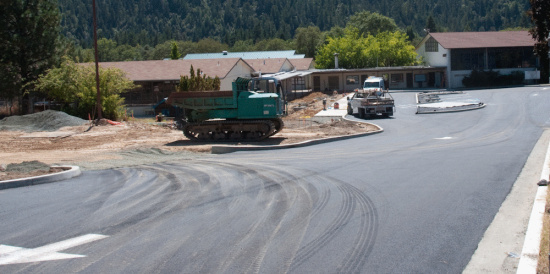 Photos taken August 16th.