600,000 Miles Accident Free- Burnt Ranch School Employee Named Northwestern California Bus Driver of the Year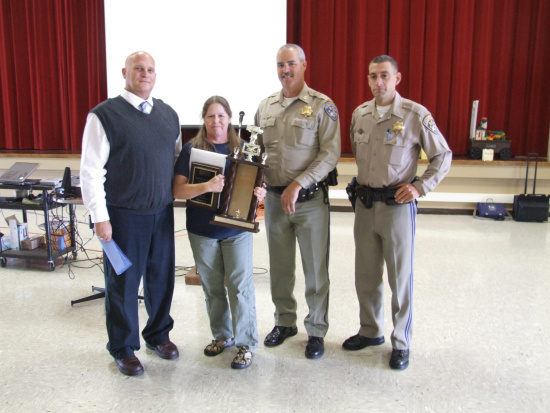 From left to right: CHP Officer Eric Nelson, Ms. Sherryl Ireland, CHP Commander, Captain Adam Jager, CHP Officer Chris Jackson. Photo taken by: Public Information Officer Matt Harvey
CHP Press Release:
The California Highway Patrol (CHP) places great emphasis on school bus safety and the safe transportation of our children when aboard school buses. As such, we are pleased to announce Ms. Sherryl Ireland, school bus driver for Burnt Ranch School in Trinity County, as the Chapter 18 California Association of School Transportation Officials (CASTO) School Bus Driver of the Year for the 2012-13 school year.

"We are extremely pleased to honor Sherryl for her unwavering dedication to transporting children to and from school for the past 32 years," said CHP Humboldt Area Commander, Captain Adam Jager. "Sherryl has dedicated a portion of her life to the safety of our young people, and for that she is being recognized as School Bus Driver of the Year."

Ms. Ireland is being recognized for her many years as a school bus driver and having driven 600,000 miles accident-free. As the only driver for Burnt Ranch School, she handles all aspects of the school bus program including driving, records keeping, and vehicle maintenance. Because Ms. Ireland has no backup driver to relieve her, she has the obligation to be reliable without fault. In the past five years, she has only missed three days of work. Ms. Ireland is regarded among her peers and community as an exceptional school bus driver who serves with commitment and dedication.

On August 20th, 2013, Captain Jager formally recognized Ms. Ireland as the 2013 School Bus Driver of the Year at the Chapter 18 CASTO annual workshop at McKinleyville High School. In addition to this award, Ms. Ireland also received the Chapter 18 CASTO safe driver award along with 10 other local school bus drivers.