National Forest Lands near Wildfires Closed to Public–Hunting Impacted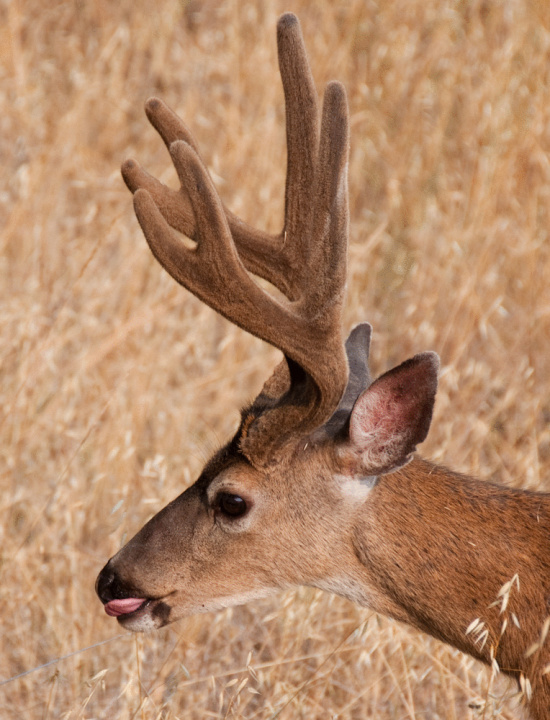 Nyah, nyah, say Klamath Area bucks.
Forest Service Press Release:
The existing Emergency Closure for portions of Klamath National Forest lands, within and adjacent to the Salmon River Complex, was extended west and south to include National Forest lands around the Butler Fire. The purpose of the temporary closure is to protect public safety during efforts to suppress current wildfires. Simply stated, it is unsafe for the public to be near the wildfires due to unpredictable changes in wind, rolling fire debris, poor visibility and narrow roads busy with emergency vehicle traffic. Likewise, the closure order is important for firefighter safety.

With bow season for deer hunting starting Aug. 17, 2013, it is important for hunters to be aware of the closure order. Effective Aug. 10, 2013 only fire personnel are allowed to go into or be upon National Forest land within the closed area. Hunters are encouraged to seek alternative hunting areas. A map and description of the closed area is available at Klamath National Forest offices in Yreka, Fort Jones, Happy Camp and Macdoel, CA; as well as online at http://www.fs.usda.gov/Internet/FSE_DOCUMENTS/stelprdb5430601.pdf.

The closure area is defined by the following boundary: Starting at Somes Bar, CA the closure boundary follows the Siskiyou County line south to Youngs Peak, then angles north along Knownothing Creek to State Highway 93/Salmon River Road and Forks of Salmon, CA. The closure boundary continues east along, but not including, Forest Road 39 to Timber Camp Trailhead, then northeast to the Russian Wilderness boundary, continuing along the boundary to the Pacific Crest Trail (PCT). The boundary parallels, but does not include, the PCT northwest to the intersection with Timothy Gulch, and then follows Wooley Creek southwest to State Hwy 93 and west to Somes Bar, CA.

Hunters should also be aware of the new Motor Vehicle Use Maps (MVUM) governing use of motorized vehicles on the Klamath National Forest.

Cross-country travel is closed forest-wide with implementation of this plan. Motorized access should be only on open roadways, and within 30-feet from the edge of open roadways for parking and camping. The Motor Vehicle Use Maps are the easiest way to learn which roads are open to which type of vehicles. The maps are available online at the forest Website at http://www.fs.usda.gov/detail/klamath/home/?cid=stelprdb5404649. The maps are also available in hard-copy at Klamath National Forest Headquarters in Yreka, CA and ranger district offices.

Following are forest office phone numbers:

Klamath National Forest Headquarters: 530-842-6131

Goosenest Ranger District: 530-398-4391

Happy Camp/Oak Knoll Ranger District: 530-398-4391

Salmon/Scott River Ranger District: 530-468-5351

Contact the ranger district office in the area you plan to hunt for area-specific information. Hunter related information will also be available on the CDFW Website at http://www.dfg.ca.gov/Hunting/.

California is in the midst of a very active wildfire season. Record low levels of snowfall coupled with previous droughts have left the state vulnerable to catastrophic wildland fires. A high percentage of wildfire starts in California are human caused. Human caused fires are preventable—and are therefore the target of a state wide fire prevention campaign.

The One Less Spark, One Less Wildfire campaign focuses on locations and time periods which have high fire danger. Road uses during hot and dry weather become extra critical since road corridors include power lines, telephone lines and other important infrastructure. Similarly, equipment use becomes critical during hot and dry weather in business and residential areas. Wildfire occurrences in those locations become very high risk to human lives, and are costly for firefighting efforts. That is the basis for focusing this fire prevention campaign on vehicles and equipment use.

One of the goals of the One Less Spark, One Less Wildfire campaign is to increase public awareness on the need to check trailer safety chains to insure they are not dragging on the pavement—generating a trail of sparks along the highway and igniting wildfires. This includes checking the chains periodically during a trip. Checking brakes and wheel bearings at the beginning of the hot and dry season is equally important for reducing the number of vehicle caused wildfires.

Hunters need to also be aware fire restrictions are in effect. No fires are allowed outside of developed campgrounds, picnic areas and signed camp fire use areas, except for Marble, Siskiyou, Russian and Trinity Alps Wilderness areas. Portable stoves using gas, jellied petroleum or pressurized liquid fuel are allowed with a valid California campfire permit. Fire restrictions also affect the use of generators and chain saws. Check with local National Forest offices for specific rules.