Residents of Butler Flat Lose Waterline as Fire Creeps Closer–Other Areas Prepare for Evacuation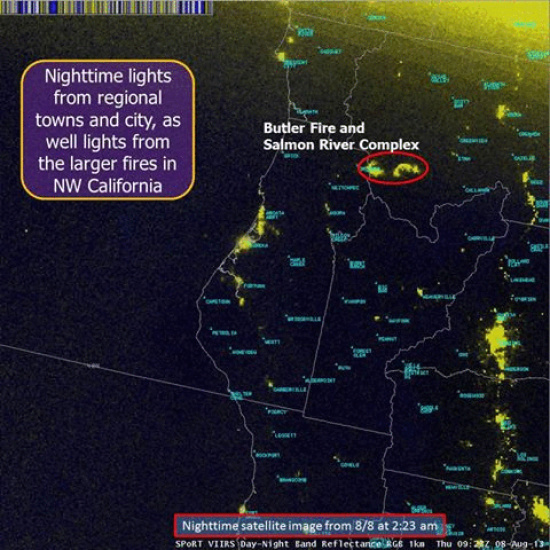 Night satellite image shows fires burning in Humboldt and Siskiyou Counties. (Graphic created by the helpful Facebook page of the US National Weather Service in Eureka.)
Northeastern Humboldt and nearby Siskiyou Counties have two major fire incidents burning in wildlands but nearing homes. The Orleans Complex which consists of the Butler and Dance Fires (the latter is under control) has burnt over 6000 acres. The Salmon River Complex has the Boulder and Shelly Fires which are now merging into one big fire. This has burnt almost 9000 acres. Last night residents near Sawyers Bar, Idlewild, and Mules Bridge were advised to prepare for evacuation. Others in the area were "encouraged to complete their fire hazard reduction to assist firefighters in defending their homes." (Here is information on what the different levels of evacuation are and what they mean.)
Residents in the area of Butler Flat had heartbreaking news. They have been struggling to protect waterline to their properties. They had sent days covering the waterline, a half mile of 6″ unburied pvc pipe. They had put in tin roofing on much of it and sprinklers but yesterday burning vegetation let loose a rock and log fall that broke the line. Ben Beaver, son of a resident, wrote this morning, " We lost the waterline yesterday, and we don't really have any idea how serious the damage is yet." He added, "…looks like we may get some rain today, though it is too late to save the waterline."
According to the Weather Service, there is a 30% chance of rain for the area. But with it comes thunderstorms.
Lightning is expected today and tomorrow over portions of northern California. While Humboldt is expected to escape most of this, the US Weather Service in Eureka said, "Today could add a few more fires to Northern California with abundant lightning expected over portions of Siskiyou County. From what it looks like right now, Trinity County may escape the bulk of thunderstorms today." Friday, though, could bring lightning to the area.
There is a smoke advisory for Del Norte, Humboldt and Trinity Counties. The smoke levels in areas around the fire have been designated unhealthy and people are being advised to stay indoors if possible.
There is a public meeting for those in the fire areas planned for today, August 8, 2013 at the Karuk DNR in Orleans California from 6-7pm.
Below is this morning's press release:
August 8, 2013, 8:00 a.m.

For Immediate Release

Butler Fire Information (530) 618-2101 — Salmon River Complex Fire call (530) 841-4451

A public meeting is planned for today, August 8, 2013 at the

Karuk DNR in Orleans California from 6-7pm.*

Health Advisory:

The North Coast Unified Air Quality Management District (NCUAQM) continues to extend their smoke advisory for Del Norte, Humboldt and Trinity Counties, noting that there are separate advisories for Forks of Salmon, Klamath Glen, Orleans and Weitchpec. For further information call the 24 hour Air Quality Advisory Information at 1-866-BURN-DAY or check the district's website at www.ncuaqmd.org.

Detected: Wednesday, July 31, 10:00 p.m.

Cause: Under Investigation

Fuels: Timber and Brush

Estimated Size: 6, 248

Containment: 8%

Committed Resources: Approximately 952

Structures Damaged or Destroyed: 0

Closures:

The following closures are in effect:

Going into or being upon National Forest System lands in the area beginning at the intersection of Wooley creek and Highway 93 (county Road 2B01), then continuing northeast along Wooley creek to the intersection with Timothy Gulch, then continuing southeast along Timothy Gulch to the intersection with the Pacific Crest Trail, then continuing southeast along but not including the Pacific Crest Trail to the intersection with the Russian Wilderness boundary, then continuing south/southwest along the Russian Wilderness boundary to the intersection with Forest Route 39, then continuing west/northwest along but not including Forest Route 39 to the intersection with Highway 93 (county Road 2B01), then continuing northwest along Highway 93(county Road 2B01) to the starting point, as shown on the attached map.

Oak Bottom Campground, Nordheimer Campground is closed.

Highway 93 (Forks of Salmon Road) is closed at the Highway 96 intersection and above the Forks of Salmon store. No access to North Fork/Sawyers Bar Road is available at this time.

Forest roads 10N04 and 10N17 and roads in the fire area south of the Salmon River.

The land around the Salmon River is closed 300 feet from the high watermark between the confluence of Wooley Creek and the confluence of Nordheimer Creek.

Summary:

The Butler Fire is located on the Klamath National Forest approximately 10 miles east of Somes Bar, California. The fire grew significantly yesterday, and is now established across Hammel Creek and into the Nordheimer Creek drainage. Activity around the community of Butler Creek continues to be favorable, with the fire backing slowly into the Butler Creek drainage. The incoming weather front is preceded by strong, unpredictable winds and atmospheric instability which is resulting in increased fire activity. Fire fighters continue to be challenged by steep terrain and low visibility (due to smoke and fog). Additionally, a Red Flag warning for lightning has been posted for the area around the Butler Fire. Residents of Orleans may notice increased traffic in the Pearch Creek Road area as fire vehicles are using the road to access the western flank of the fire. Fire managers are also beginning a preliminary assessment of structures in that area.

Please see http://www.inciweb.org/incident/3577/# for updates and a map of the Orleans Complex.