Butler Fire–Crews and Residents Work to Save Structures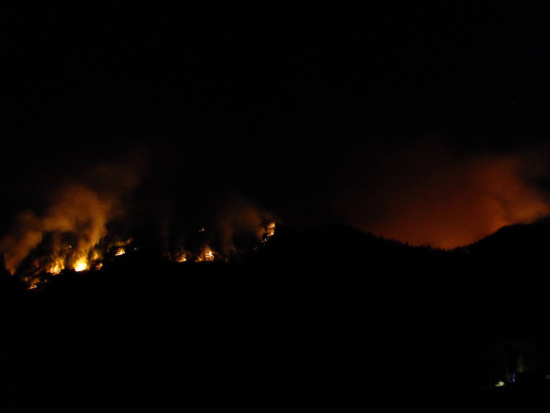 View from the homes threatened on the Butler Fire. Flames were about a 1/4 of mile away at that point. (Photo taken around 10 P.M. last night by Ben Beaver, a local firefighter defending homes at the Butler Fire.)
"It is slowly making it's way towards us, and so far is burning as well as we could hope," explained Ben Beaver a local helping fight the Butler Fire by the northeastern Humboldt Co. line. "Hopefully the fire will continue to burn at such low intensity, though things may get more interesting [today.]"
Beaver says that the 31 structures that are threatened in this area (21 homes, 10 outbuildings) are "well staffed with volunteers, engines, and crews… ." Last night, crews worked the area "patrolling around the house and keeping the everything wetted down."
As of this morning, the Butler Fire is roughly 2449 acres and only 5% contained. (See here for the complete InciWeb update this morning.) The red lines show the uncontained fire. The black lines show where fireline was cut. Towards the south of the map red line indicates where there was a spot fire that crossed the fire line but Cal Fire spokesperson Don Camp says that the fire there is not expected to be a problem. "No significant growth is expected in that area."
In the east is another area of black line, that, says A.L. Reid, a Forest Service spokesperson, probably indicates the area the fire is considered contained.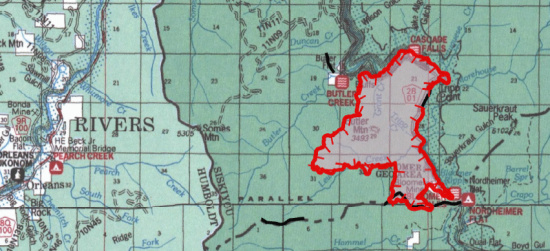 Map of the Butler Fire this morning. (See InciWeb here.)
The Salmon River Complex fire, just east of the Butler Fire, has burned over 3000 acres also. See here for the new InciWeb information.
Beaver said, the "…fire is behaving perfectly at the moment, creeping along at low intensity and clearing out the undergrowth with isolated torching. Things will most likely get more exciting [this afternoon] though after the inversion lifts. Overall I am feeling very confidant, though it still could get stressful here for a bit."
In fact, Beaver is hopeful that the fire might, in spite of the current danger, actually help the land. He wrote, "[F]olks here are holding up pretty well, though it is stressful having fire on your doorstep. As long as we don't have a freak wind event or something else to cause extreme fire behavior, we should be fine. If things continue as they are, the forest will look much better than it did before."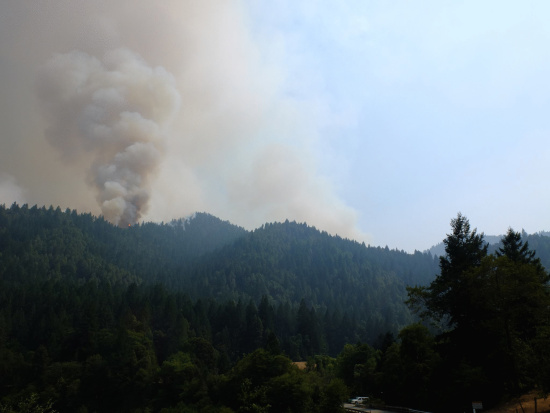 This view was taken from the Salmon River Road at Butler Creek about 2:45 yesterday afternoon. According to a local fireman, Ben Beaver, the fire was "making a run" over the ridge from Grant's Creek. (Photo taken by Ben Beaver.)
Previously: