Orleans Complex Map and Evening Update with Air Alert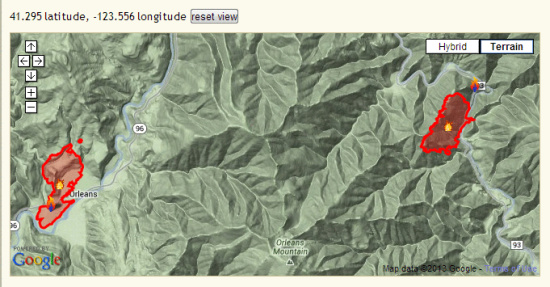 Screen shot of the Inciweb Map for the Orleans Complex. To the left is the Dance Fire which is contained. To the right is the Butler fire. To the northeast of it is a 1/4 acre spot fire.
Press release dated 8/2 8:43 P.M.:
Butler Fire:

Detected: Wednesday, July 31, 10pm

Cause: Under Investigation

Fuels: Timber and Brush

Estimated Size: 483 acres

Containment: 0%

Committed Resources: Approximately 222

Structures Damaged or Destroyed: 0

Butler Fire Summary: The Butler Fire, located on the Six Rivers National Forest, is located approximately 10 miles east of Somes Bar, California. Northern California Interagency Team 2 is managing the incident.

The following closures are in effect:

Highway 93 (Forks of Salmon Road) is closed at Oak Bottom Campground.

Nordheimer Campground is closed.

The land around the Salmon River is closed 300 feet from the high watermark on both sides of the river.

The Butler Fire is continuing to burn mostly on the south side of the Salmon River in the remote area east of Butler Flat. A spot fire on the north side of the river remains at about ¼ acre. The fire burned down to the mouth of Lewis Creek and along the ridge of Butler Mountain. Challenges to fire fighters include extremely rugged, steep terrain and limited access to the fire area. Rolling rocks and debris continue to pose safety concerns. Crews are clearing up the Butler Creek Trail and beginning line construction from Orleans Peak. Structure protection for the homes along Highway 93 (Forks of Salmon Road) continues to be a focus.

Dance Fire

Detected: Monday, July 29, 5pm

Cause: Under Investigation

Fuels: Timber and Brush

Estimated Size: 577 acres

Containment: 100%

Committed Resources: Approximately 396

Structures Damaged or Destroyed: 1 home, 2 outbuildings

Dance Fire Summary:

Crews continue mop-up and patrol. Visitors and residents will continue to see smoke within the fire perimeter.

Alert:

The North Coast Unified Air Quality Management District has issued an health alert due to the smoke for the following areas: Hoopa (Stage 3 alert); Karuk Tribe; Humboldt County (Willow Creek, Orleans, Forks of Salmon); Trinity (Burnt Ranch). Recommend to restrict any outdoor activities. For further information about symptoms, or recommended actions, call the 24 hour Air Quality Advisory Information at 1-866-BURN-DAY or check the district's website at www.ncuaqmd.org.

Please see http://www.inciweb.org/incident/3577/# for updates and a map of the Orleans Complex.