Thursday Update with Photos and Video of the Dance Fire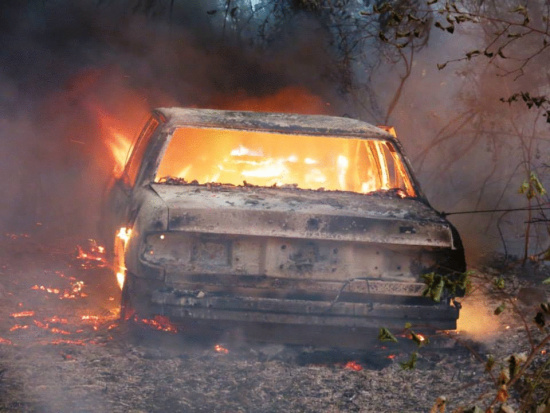 Photo taken as the fire swept into an area near the small town of Orleans Monday evening.
"We're pretty confident that we're going to hold it," stated Adrienne Freeman, the Public Information Officer for NorCal Team Two, a Federal Incident Management team, about the northeast line of the Dance Fire. "We expect containment by Friday…[However,] one section is a little steep. [The fire is] in a bowl there… . You don't want anything coming rolling out because there are houses on the other side."
At this point, the fire is 90% contained and the updated figures show that around 627 acres burned. The winds were faster than predicted yesterday, she explained, and that kept the fire from being completely surrounded. There is a marine layer cooling the area though and temperatures are predicted to reach only 76 degrees today. This should help keep the fire under control, she said.
Residents shouldn't worry, Freeman explained, if they see bursts of smoke from areas within the fire perimeter-that is normal as "pockets continue to burn remaining fuels."
In order to provide updates, a community meeting will be held again tonight at the Karuk Department of Natural Resources at 6:00 p.m.
Freeman proudly pointed out that the fire response crews "worked magic to not lose more than one home" on the day the fire started.
Will Harling, Executive Director of the Mid Klamath Watershed Council, agreed. However, he also attributes the homes' safety in part to fire reduction efforts by private landowners and his own organization. He provided the photos accompanying the story and described the hellish scene on Monday as the Dance Fire exploded near the small town of Orleans:
The fire was so intense Monday evening. It was spotting out in front of itself so fast, that fires were starting all over. On Gold Dredge Road, [Shown as Dredge Rd. on Google Map below] fire burned down the riverside… . The fire came through that strip of vegetation between the river and the road–pretty much crowning out and throwing embers onto the homes and yards and outbuildings on the otherside of Gold Dredge Rd. It was a shower of embers coming down. Anything that could ignite was igniting. [See photos below.]
Harling noted that the residents in the area had defensible green space and had cleared much of the surrounding vegetation back from their structures. (Note: this site has information on how to do that.)
[googlemaps https://maps.google.com/maps?f=q&source=s_q&hl=en&geocode=&q=Orleans,+CA&aq=0&oq=orleans,+ca&sll=41.14183,-123.824449&sspn=0.850118,1.663055&t=h&ie=UTF8&hq=&hnear=Orleans,+Humboldt,+California&ll=41.300902,-123.541793&spn=0.013251,0.025985&z=14&output=embed&w=425&h=350]
The home destroyed in the fire belonged to Zona Ferris. According to her family who wrote to the Two Rivers Tribune,
[Ferris] a lifelong resident of Orleans lost her house and everything in it due to a wildfire that started on July 29th. The family of Zona is calling for donations to help her re-build.
The article lists Ferris' needs including items to enable her to continue her passion for cooking and gardening as well as toys for her seven year old grandson. There will be a benefit dinner tonight at 5 P.M. for her at the Karuk DNR/Community Center.
Below are photos and video from the fire. Video provided by Angela McLaughlin. Photos provided by Will Harling.
[Note: Soon after LoCO spoke to Harling he had to rush to fight fires occurring near his own home (see this story.) LoCO hopes that he and all the people in the path of these fires are safe.]
https://www.facebook.com/video/embed?video_id=629266690426676
Video from July 30th. Photos from July 29th.