Readying for Disaster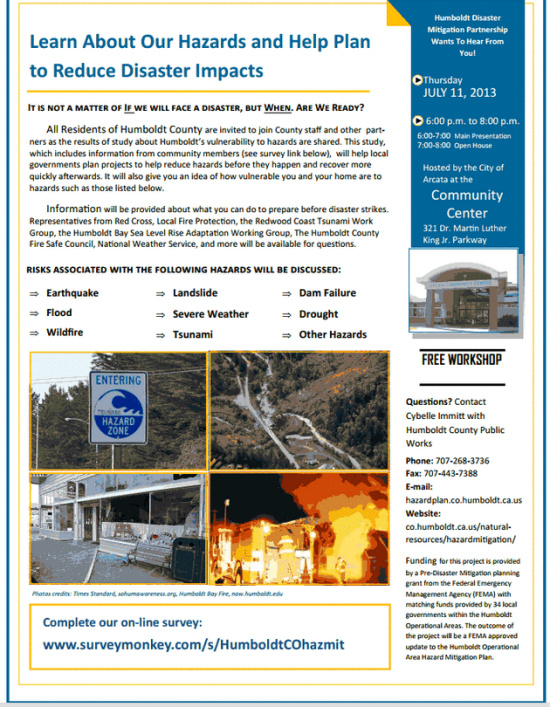 Humboldt Co. Public Works Press Release:
All residents of Humboldt County are invited to attend one of two public workshops designed to help raise awareness about the risks associated with natural hazards in Humboldt County. Each workshop will include a presentation on the results of a study examining Humboldt County's vulnerability to natural hazards. The results of this study will guide local governments in planning mitigation projects that will help reduce the impact of hazards before they happen, and enable us to recover more quickly once they occur. This presentation will also give residents an understanding of the extent that they and their homes are vulnerable to a variety of potential hazards.

Workshop Locations and Dates:

Fortuna – Wednesday, July 10 in Fortuna at the River Lodge, located at 1800 Riverwalk Drive from 6:00 p.m. to 8:00 p.m.

Arcata – Thursday, July 11 in Arcata at the Community Center, located at 321 Dr. Martin Luther King Jr. Parkway from 6:00 p.m. to 8:00 p.m.

A one- hour presentation will begin at 6:00 p.m., followed by an open house session. Information will be provided about what you can do to prepare your home and family before disaster strikes. Representatives from Red Cross, Local Fire Protection agencies, the Redwood Coast Tsunami Work Group, the Humboldt Bay Sea Level Rise Adaptation Working Group, the Humboldt County Fire Safe Council, the National Weather Service, and others will be available to answer questions.

The public's assistance is also requested to help identify and plan for future natural disasters with an emphasis on identifying projects that will reduce/avoid future loss. Follow the link provided below to respond to a disaster preparedness survey. Local governments want to learn about what hazards – such as earthquake, tsunami, or flood – residents are most worried about and what precautions they are willing to take to reduce their vulnerability to injury or damage. The process is entirely anonymous and should take less than 5 minutes to complete. To take the survey visit:surveymonkey.com/s/HumboldtCohazmit.

If you have questions contact Cybelle Immitt of the Humboldt County Public Works, Natural Resources Planning Division at: 707-268-3736 or send an email to: hazardplan@co.humboldt.ca.us. Or visit co.humboldt.ca.us/natural-resources.