Missing Three-Year-Old [Updated with Photos] [UPDATE 2–He's Found!]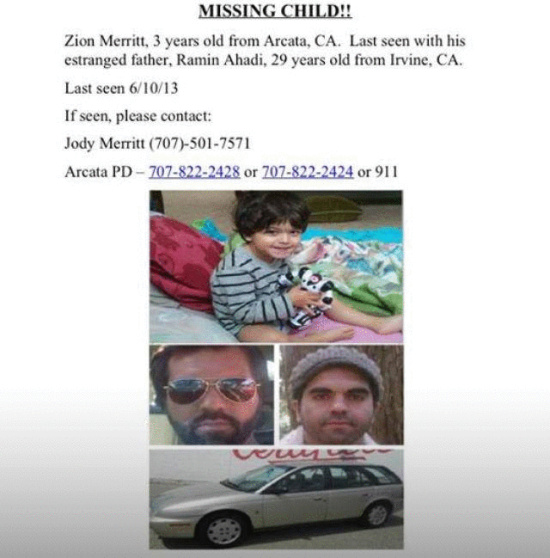 Photo from the Working Stiff's Facebook page.
UPDATE 9:40 A.M. 6/28: APD Press Release:
On 6/27/13 Arcata Police Department received a tip that missing child Zion Merritt and his non-custodial father Ramin Ahadi were seen in the area of Ashland, Oregon. APD requested the Jackson County Sheriff's Department respond to the area and investigate.

Jackson County Sheriff's officials located the missing three year old child and arrested the father Ramin AHADI on charges of custodial interference in Oregon.

The three year old child was taken into protective custody by Oregon Department of Health and Human Services and the child was later reunited with his mother. The child was unharmed.

Ramin AHADI remains in custody at the Jackson County Jail.
UPDATE 7:50 A.M. 6/28: Mother, Jody Merritt writes on her Facebook page, "They found him! They found Zion. I am going to drive to go pick him up. I can not give more details than that at this time, only that i will be going north and it will take me about 7 hours to get there. YOu guys are all so awesome! YOu found my son!!!!"
Arcata Police Dept. Press Release:
On June 17th 2013, the Arcata Police Department received a report of an overdue child. The child, three year old Zion Merritt, had been visiting for the day with his non-custodial father, twenty-nine year old Ramin Ahadi. Merritt's mother became concerned when Ahadi did not return with their child and he did not respond to phone calls.

Since that time Ahadi has not contacted the child's mother and his whereabouts are unknown.

Investigators were assigned to the case and it is their belief Ahadi is intentionally concealing the child from his mother. It is further believed Ahadi may have left the state and could possibly be on his way to either Montana or Oregon.

Ahadi is described as an Indian male adult 6'1″, thin build with brown hair and brown eyes. He was last known to drive a gold 1998 Saturn station wagon with a California plate of 5DDJ221.

Zion Merritt is described as a white male juvenile, 3′ tall, weighing 40lbs with brown hair and brown eyes.

Anyone with information on Ahadi's whereabouts are asked to call the Arcata Police Department at (707)822-2428.