Drought Causes River Levels to Drop to Near Record Lows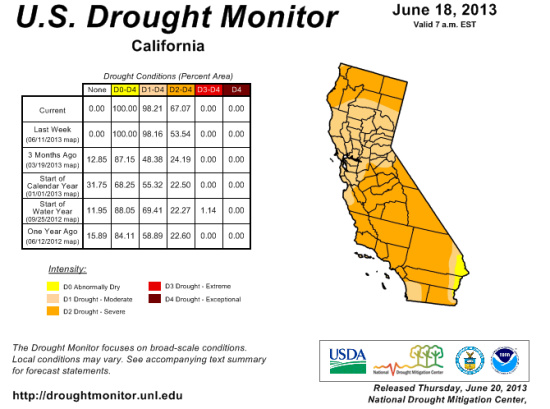 An updated map and analysis is released every Thursday.
Northern California is currently experiencing a moderate drought but much of Humboldt County is now reaching severe drought conditions. While rainfalls were above normal at the beginning of the rainy season during November and December, the rest of the season was very dry. As a consequence, area rivers and streams are near record lows.
According to Reg Kennedy, a hydrologist with the National Weather Service in Eureka, "The streams are running low mainly because of our below level precipitation, January through May." This is effecting the flow of several rivers.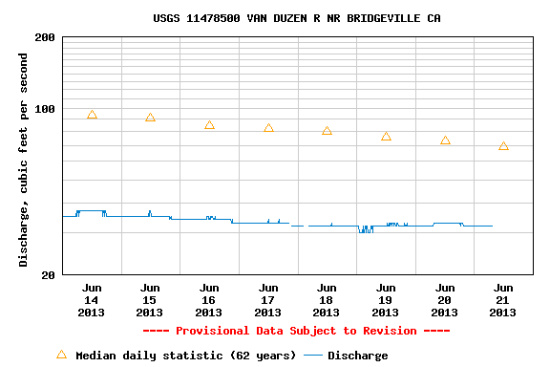 As an example of these record lows, the chart above shows waterflow levels in cubic feet per second for the Van Duzen River near Bridgeville (see where the site is located by clicking here.) The yellow triangles show the median flow over the last 62 years. The blue line shows the levels this year. As of this morning (June 21st,) the Van Duzen is flowing at 32 cubic feet per second. The lowest ever recorded on this date is 31 feet per second. That was back in 1985. This puts water flow for the river at levels usually only seen in mid to late July.
Kennedy explained, "Bridgeville is one of the lowest ones…. The Van Duzen is running really low…. It is almost like we are in the month of July…We could really see extremely low flows by August. The snow that feeds the rivers is pretty much done for. Some rivers could increase flows by using reservoirs but rivers like the Van Duzen don't have any reserves to draw on. Basically it is going to be low all summer."
The waterflow of the Eel River at Scotia, though not close to the record low set in 1924, is also at levels usually seen only in the later half of the next month. The Eel River at Miranda is at levels normally seen only in very late July.
Redwood Creek near Blue Lake is flowing at 18 cubic feet per second only one foot off its minimum set in 2001. Again the water flows at levels usually only seen in late July. The Trinity River at Hoopa is also at late July levels. (More California water flows can be seen here. Click on the dots for more information.)
However, according to Kennedy, "Our reservoir capacity is doing fairly well….Because of the early high rain in November and December, they filled the reservoirs up close to where they need to be… Trinity is at 95%… There is water in the reservoirs for irrigation and the water supply that is why in general that the water managers aren't too concerned." But, reservoirs don't exist on all the rivers. For instance, the South Fork of the Eel has no reservoir to draw from.
Kennedy pointed out that "Smaller creeks will dry up earlier than typical. People will have to use well water. I think that the agricultural community is going to have to rely more on ground water for irrigation… ." This could be problematic depending on water rights. The Dept. of Fish and Wildlife is reportedly looking more seriously at water withdrawals from area creeks and streams as well as from the rivers.
According to the US Drought Monitor, drought conditions worsened this week across the northern areas of California. The site states,
Extremely low streamflow levels and record, or near-record, dryness on the year have elevated short- and long-term concerns with regard to soil moisture, fire potential and distressed native ecosystems not privy to irrigation… .

Statewide water supply conditions are in pretty good shape for most of California, which should provide a sufficient buffer for irrigators and municipalities this year, but as those supplies are drawn down, there will be little to fill in behind because of the disappointing winter and woeful year-to-date precipitation.
However, there might be some relief coming this weekend. For most of Humboldt, showers are predicted beginning Saturday night with what Kennedy calls "significant rains" falling late Sunday night through Monday. Then the wet weather will taper off in to showers through Wednesday. Kennedy says that there will be "Maybe an inch of rain over a period of Monday and Tuesday… ." This, he says, will result in an "inch—inch and half of rain…The rivers will have a slight rise and increase of flow [in response to the rainfall." Kennedy says that "they'll go up a half a foot. Then they'll drop to significantly below normal again."
Rainfall, for the rest of the summer, he says, is predicted to be "below normal."