Devil Horn Tattoos and Armed Robbery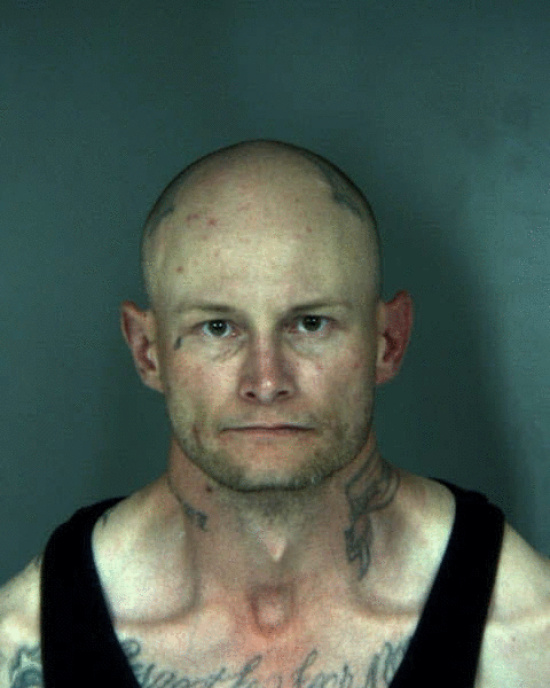 Frederick Schallenberg
Eureka police arrested Frederick Schallenberg (age 32) and Racheal Naze (age 27) on Sunday, May 5th in connection with allegations by a white male in his twenties. According to Sgt. Steve Watson, the man alleged that he was getting gas at the Shell station on 5th Street when the two approached him panhandling.
Schallenberg allegedly drew a gun and demanded the younger man drive the couple to the Adorni Center. There, the younger man alleged, the couple robbed him of ninety dollars. The couple left and the alleged victim contacted police.
While the younger man met with police at the Shell station, he noticed the alleged female accomplice walking with a male companion. He identified the woman but said the man was not the the perpetrator. Sgt. Watson said the victim described "devil horn tattoos" on the gunman which reminded the deputies of Schallenberg who had a "lengthy criminal history."
The woman, Naze, and her companion were questioned. The companion had cash on him that he explained by saying that the woman had bragged about having been part of taking money from a man. He said that she had given him some so they could go purchase drugs.
According to Watson, the woman allegedly told the officer "a confused tale" that the victim wasn't a victim of a robbery but instead was interested in buying weed and in purchasing sex acts with the male.
The officers were able to ascertain where Schallenberg was located at a motel. He declined to answer any questions and was arrested for armed robbery and probation violation. No gun was recovered. Naze was arrested for probation violation.
Two children of Naze, six and eight, were taken by Child Welfare Services.
Racheal Naze