Humboldt Film Commissioner Responds to Dunked Dodge
UPDATE: KSLG's John Matthews spoke with Cassandra Hessletine of the Humboldt Film Commission. Interview below: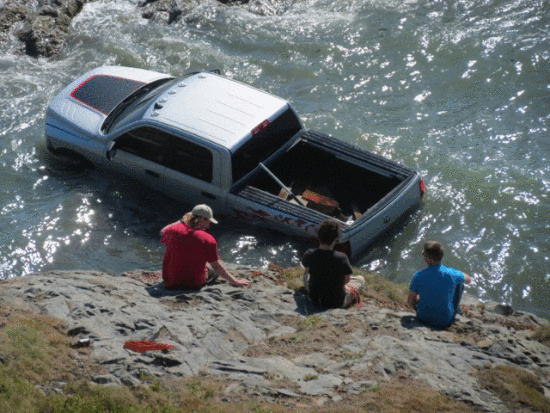 Photo by Brian Parrott
Humboldt Co. Film Commission Press Release: (see previous story here.)
Based on a report from the County of Humboldt, Department of Health and Human Services, the Dodge Ram recently reported to have gotten stuck in the intertidal zone between Moonstone Beach and Houda Point in West Haven on Wednesday left a minor amount of lubricating fluid on the beach. No other vehicle fluids were detected and the division of Environmental Health does not consider this accident to be a major incident.

The Humboldt-Del Norte County Film Commission received news that upon investigation of the truck on a trailer, no other fluids (gas, antifreeze or oil) seemed to have leaked out of the vehicle. The Film Commission is now working with the California Coastal Commission and the Surfrider Foundation to consider policies that will protect local environmental resources from accidents happening like this as a result of filming.

Although most film production permits are processed with knowledge of the Film Commission, this particular permit was processed without the the Film Commission awareness and therefore the Film Commission was unable to have a hand in monitoring the shoot during filming. The Film Commission is currently in the process of changing regulations countywide to ensure that film permits are not issued without the the authority of the Film Commission in the future.

The Film Commission has received a verbal apology from the film production itself regarding the incident.