RV Fire Injures One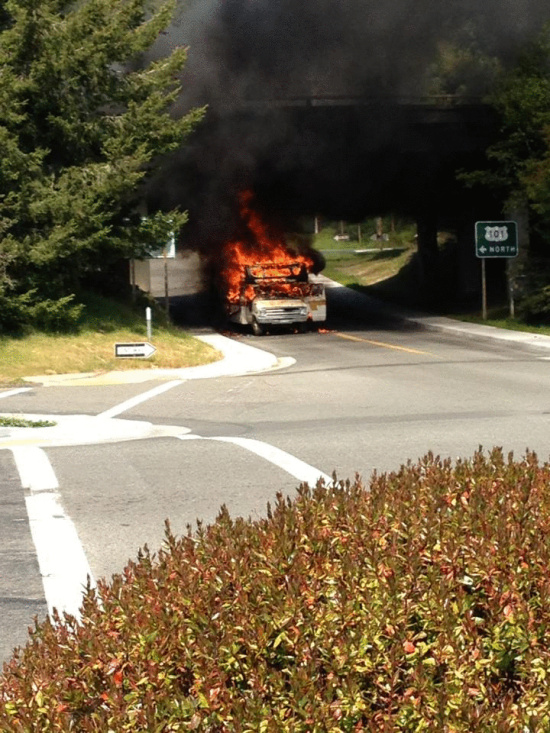 Photo sent in by Chris Hardee
An RV fire at the Hwy 101 underpass near Trinidad reportedly injured the driver and sent clouds of smoke billowing across the freeway. Calfire and the Humboldt Co. Sheriff responded because the vehicle was within Trinidad city limits. The fire was reported at about 3:30 this afternoon to CHP though. Within twenty minutes the fire was out.
UPDATE 6:26 P.M.: LoCO reader, Jeff Bernard, sent in a photo of the burnt out RV.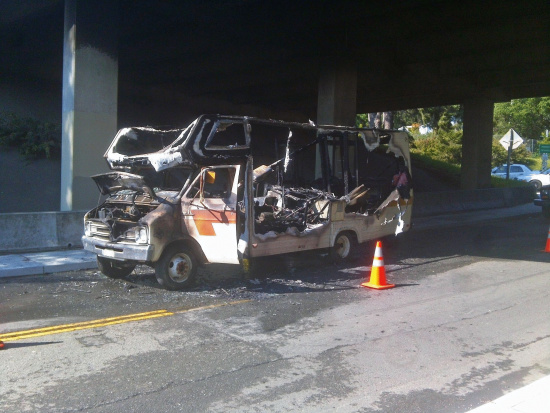 UPDATE 5/3: LoCO reader Daniel O'Shea sent in the following report:
No, that was not the Trinidad Freeway underpass on fire this aftenoon at 3:45 p.m., it was a camper that has been stuck halffway up a driveway on Frontage Road for the past several months, getting back on the road again. Unfortunately, 1/2 a block down the street all alone, under the overpass, it burst into flames releasing a toxic cloud of global warming, climate changing fumes, so bad that the first responders on scene had to wear protective breathing apparatus just to approach the flames. The owner was burned from trying to put out the fire, barehanded was treaated on scene. The adventure turned out to be a bad trip, and there is now toxic cloud drifting out over the hills of Westhaven and beyond. The burned out vehicle was then towed back to the driveway for major repairs.