Learn about Native Plants in Shelter Cove Presentation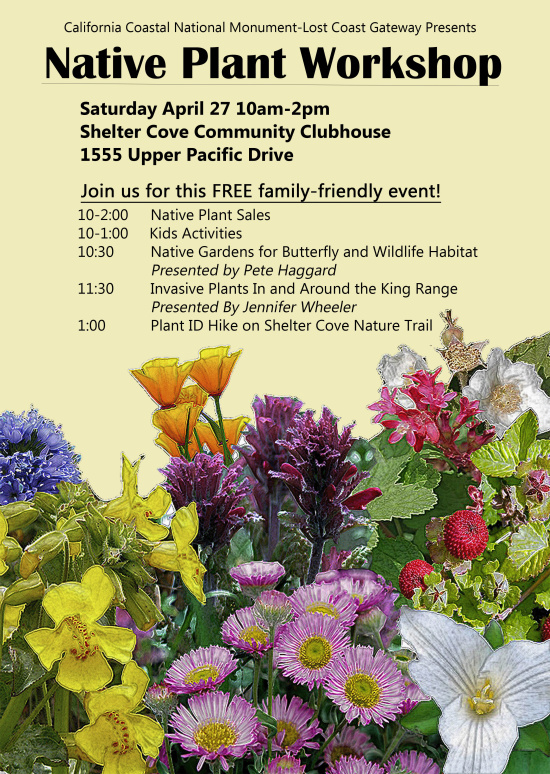 Press Release:
Information on native plants and the best species for local gardens will be the focus of a free, family-focused workshop, set for Saturday, April 27, from 10 a.m. to 2 p.m., at the Shelter Cove Community Clubhouse, 1555 Upper Pacific Dr., in Shelter Cove.

The event will feature speakers, information tables, kids' activities, slide presentations and a plant identification walk on Shelter Cove's new nature trail. A new brochure, "Native Plants for North Coast Gardens," will be available. Vendors will be selling native plants, and experts will be on hand to provide advice on gardening with natives.

Featured speakers include Pete Haggard, of the California Native Plant Society's North Coast Chapter, and Jennifer Wheeler, a botanist with the Bureau of Land Management's Arcata Field Office.

At 10:30, Haggard will speak about gardening with native plants and the benefits it provides for butterflies and wildlife.

At 11:30, Wheeler will discuss invasive plants and their impact on native plants and habitat in the King Range National Conservation Area, including tips about plants to watch for, and what should be done if they are discovered. Wheeler will also share information about some of her favorite native plants for the garden.

The plant walk will begin at 1 p.m. starting at the trailhead on Lower Pacific Drive.

Kids' activities, including planting native seeds and seedlings, run from 10 a.m. to 1:00 p.m.

The event is sponsored by partners in the BLM's California Coastal National Monument (CCNM) Lost Coast Gateway. They include the BLM King Range National Conservation Area, the Lost coast Interpretive Association, Shelter Cove Pioneers, California State Parks, Intertribal Sinkyone and the Bear River Band of the Rhonerville Rancheria.

The Lost Coast Gateway group focuses on sharing information and involving the community in the CCNM, which encompasses more than 20,000 rocks and small islands off the California Coast. The monument was created to protect the rocks and islands and the habitat they provide for seabirds, seals and sea lions.