Car Crashes into Eureka Golf Clubhouse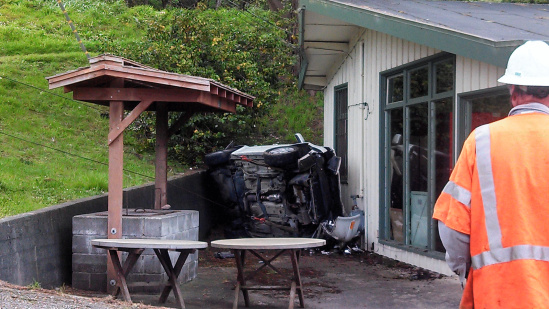 UPDATE 7 PM: Photos of the aftermath of the accident. (The photographer wished to remain anonymous.) Kudos to the tow crew for accomplishing such a tricky removal.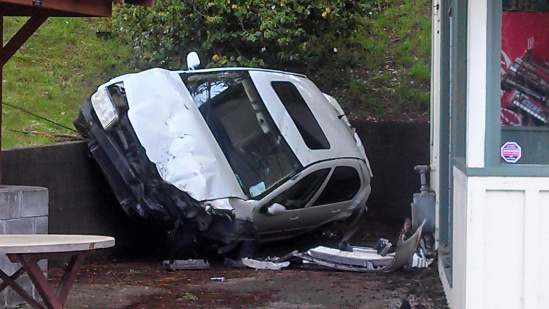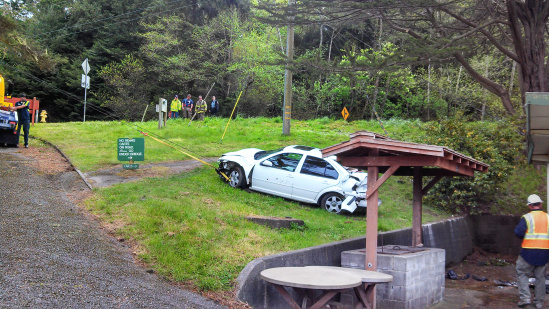 Photos above by anonymous. Below by Peter Westfall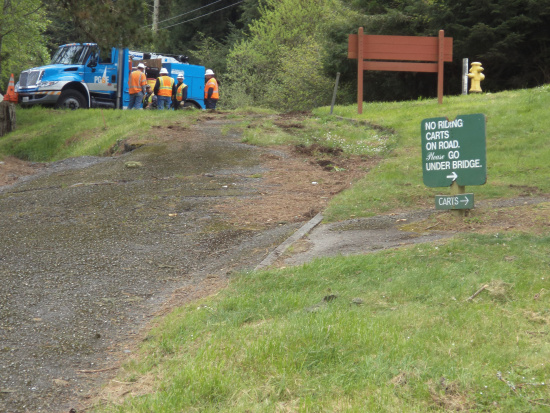 PG&E crews working at the scene of the crash. Photo by Peter Westfall
UPDATE 3 P.M.: According to Peter Westfall who provided the photos shown [and noted as his], the pedestrians who had been in the road at the time of the crash were shaky even quite a bit later. He wrote, "They were crossing the road in the X-ing; 1st car slowed to a normal stop, as did 2 and 3, #4 didn't. they just kept saying how thankful they were the distracted driver wasn't #2, or they'd of been, well, fukd!"
Original post below:
Sgt. Steve Watson of the Eureka Police Dept. responding to questions from LoCO was able to relate that a two car accident had occurred today on F St. in Eureka. According to Watson, "A couple cars were stopped. A guy in a large SUV [not realizing that the other cars were stopped] ran into the vehicle in front of him." The driver of the small car that was hit turned the vehicle's wheels to the right in an attempt to avoid hitting the car in front of him. The impact pushed the vehicle over the edge and slammed it into the north wall of the golf clubhouse.
The crash shattered the gas main. It took some time to find the valve and shut it off. According to Watson, the fuel could be smelled for quite a distance.
The driver of the impacted vehicle and the 8 year old passenger were safely secured with seat belts and there were no serious injuries.
LoCO has a request for more information into Sgt. Greg Hill who was actually on the scene.
More below the fold.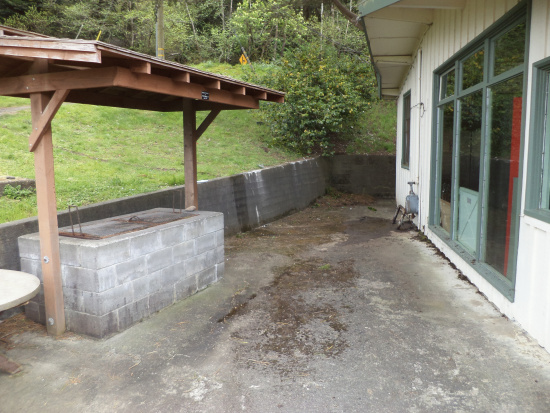 Photo by Peter Westfall of where the vehicle came to rest and the broken gas line. See below for closeup. Photo also by Westfall.