Pot Cops Debuts on Discovery Tonight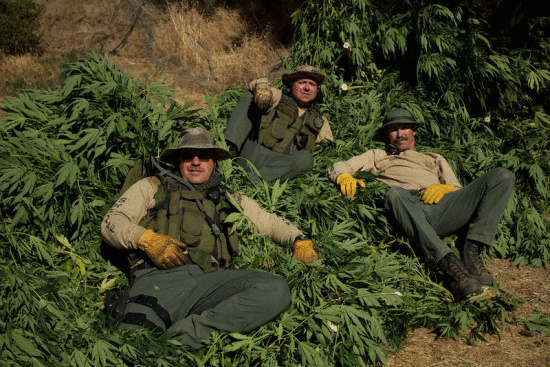 Publicity still from the series, Pot Cops, shot in Humboldt County.
"[H]ere in Humboldt County, an area with some of the most conducive growing conditions in the United States, the countryside is overrun with armed Mexican drug cartels that are willing to use violence to protect their valuable marijuana crops," trumpets the promo site for Pot Cops. The show featuring local officers and raids from last summer will be on the Discovery Channel tonight.
According to Marilyn Montgomery, from Discovery Channel's publicity dept., the episode showing tonight at 10 P.M. Pacific Time is
"Cartel Threat"

In Humboldt County, California, a strike team of Pot Cops risks all to take down Mexican Cartel growers who are running huge, clandestine weed farms in the Redwoods and shooting at local children on the Hoopa Indian Reservation. But before they do, the cops must first locate a grow that contains several hundred plants and deal with the suspected grower: an armed, 300-pound local who claims innocence.
Previous story and video trailer here.