Bridge Across the Mad River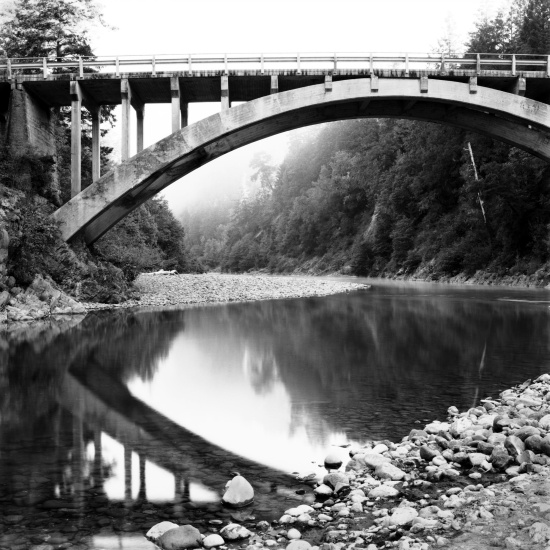 According to Matt Filar's bio, he
fell in love with photography over 35 years ago. In 2002 he finally left his long-time career in mechanical engineering to be able to pursue photography full time. He works in both color and black and white, with both medium- and large-format cameras, as well as in digital format. While his subjects are predominantly natural scenes, he also enjoys photographing interesting compositions and objects from bygone eras.

Originally from Baltimore, MD, he studied at Catonsville Community College and Rochester Institute of Technology, and while he has completed several classes in photography, he is mostly self-taught. Matt has exhibited in many galleries, and his award-winning photographs are found in homes and businesses throughout the country. His work is available at several locations in Northern California.

Matt is a member and President of Ferndale Arts (a cooperative gallery), a member and Past President of the Rotary Club of Arcata, Head Engineering Judge for the Grand Kinetic Championship, a member of Redwood Empire Mensa, and currently serves in his fourth year as President of the Board of Directors and Official Photographer of the Humboldt Crabs. He has lived on the north coast of California since 1977, and lives in Arcata with his wife, Tami.
This photo was taken out Butler Valley Road. Filar says,
I've had many people tell me about swimming here in the Mad as kids, and that it was one of the best swimming holes around… .  The bridge design is one that was used commonly in the 1930's… [I]n fact, there is a smaller one of the same design a short distance from this one where Maple Creek Road crosses Maple Creek.

The photo was shot in the very early morning just after sunrise in May of 2000, with a medium format Hasselblad 501 CM camera with a Zeiss Distagon 50 mm lens mounted on a tripod.
See more of his beautiful photos here.