Stolen Vehicle Recovered
UPDATED 2/26 at 12:30 A.M.: Updated with video sent in by reader Ingit von Inglesworth.
http://www.facebook.com/video/embed?video_id=10151743998528765
###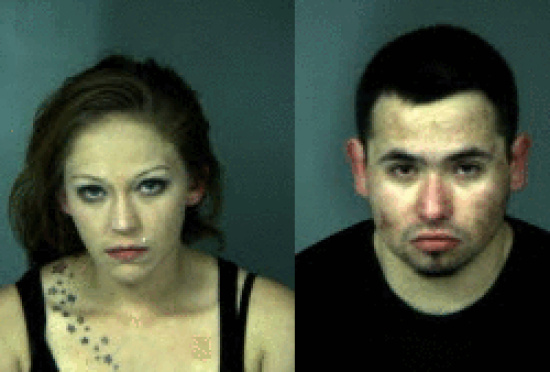 Eureka Police Dept. Press Release:
On 02-23-13 at approximately 1132 hrs, an Eureka Police Officer, who was operating a patrol unit outfitted with the Automated License Plate Reader, received a "hit" on a vehicle, which was traveling north on "E" Street near Sonoma Street. The Officer broadcasted the information to other EPD Units and the vehicle was quickly located still traveling north on "E" Street. A traffic stop was conducted on the vehicle, which failed to yield for several blocks, traveling at low speeds, but failing to stop at posted stop signs and driving erratically.

The vehicle eventually pulled into a parking lot at the Eureka Inn and a high risk traffic stop was conducted. The vehicle was occupied by two (2) subjects, who were taken into custody without incident. The driver, identified as Thomas Dale Applewhite (18 years old from Eureka) was arrested and booked at the Humboldt County Jail on charges of possession of stolen property, failure to yield, driving under the influence of a controlled substance and or alcohol, driving without a license, and probation violation. Applewhite was released from jail on a promise to appear later on this same date. The passenger, identified as Kristina Campos (25 years old from Eureka) was arrested and booked on a violation of public intoxication.

The registered owner of the vehicle was contacted and their vehicle was returned to them at the scene.