The Top Hat Tree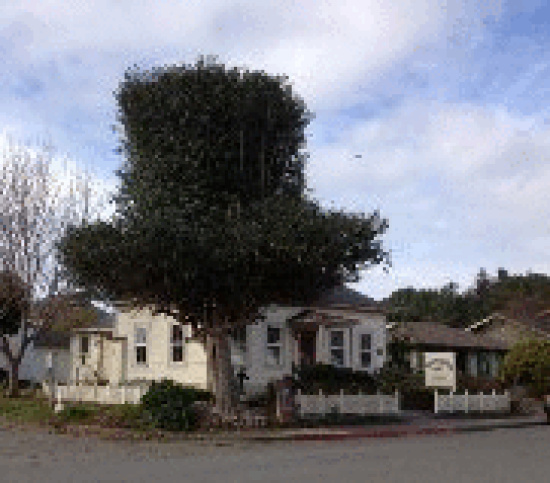 The Trinidad Art Gallery with its distinctively shaped tree.
This story is part of LoCO's new occasional series celebrating people working together to solve community problems. If you have something of interest to share please email mskymkemp@gmail.com :
For nearly 25 years Ned Simmons, who frequently wore a fancy top hat, owned the Trinidad Art Gallery. He cherished a beautiful holly tree that grew on the corner of his business. When Simmons, who was an artist, poet, and beloved community member known as "Mr. Trinidad" died, he left his art gallery to the Trinidad Coastal Land Trust hoping that it could continue to be a place for artists and their creations. Last fall, the building reopened as an artists' cooperative.
But Simmon's beloved holly tree had become overgrown. It was reaching into traffic and the county bus was finding it difficult to negotiate the corner by the building. "It has to be cut down," some insisted. Others were horrified. Eventually, it was decided the tree could stay but it needed a trim. Cornelius Lowenstein, a leather artist who is part of the art co-op suggested sculpting the tree in honor of Simmons. Four artists worked for three days to shape the tree but eventually what some call the world's largest living topiary top hat was finished.
LoCO salutes the Trinidad Art Gallery and all the people working together to come up with creative solutions to community issues.