Winter Weather in Mountain Passes
UPDATE, 11:45 a.m.: Big hail flurry just dumped down on Ferndale. Appears as if a Caltrans vehicle collided with a Honda SUV way out 36.
###
UPDATE, 10:48 a.m.: Harvesting the hail in Eureka: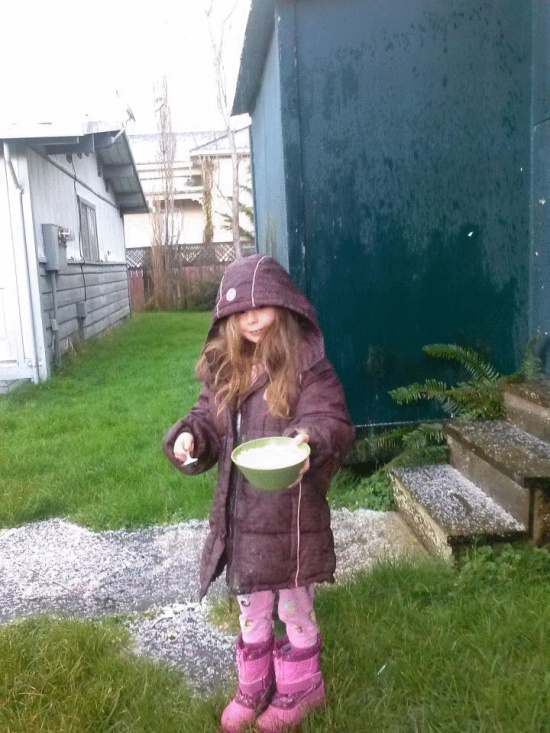 UPDATE, 10:32 a.m.: LoCO superfriend Mark McKenna sends in some photos from the scene of this morning's crashapalooza on 101 south of Eureka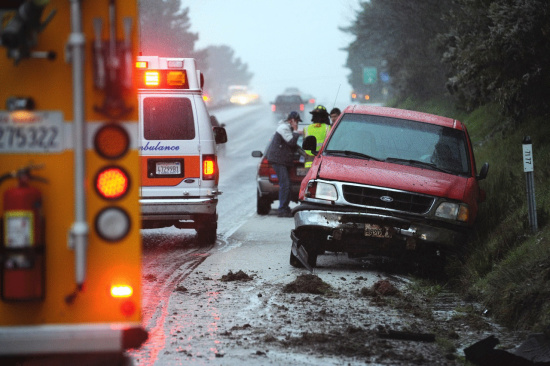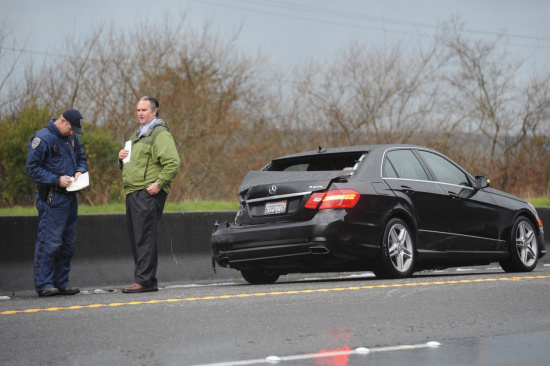 UPDATE, 10:17 a.m.: They're closing one lane on 299 between the coast and Willow Creek due to a wobbly hillside.
###
UPDATE, 9:39 a.m.: Momentary snow reported in Bayside, Arcata.
###
UPDATE, 8:28 a.m.: But the KHUM caller below may have been referring to this accident at King Salmon, which also involves multiple vehicles.
Fire trucks are responding to a smoking vehicle at that site. KHUM's Mike Dronkers texts in from his morning commute: "Three accidents between CR & King Salmon on 101. All seem to be related to massive hail on the road. No emergency responders at scene yet."
###
UPDATE, 8:23 a.m.: Some kind of large-scale traffic pile up near Fields Landing. At this moment, the CHP is saying there are three cars involved, but a KHUM caller puts the number much higher.
###
UPDATE, 8:17 a.m.: SUV 20 feet off the side of the road near Clam Beach. "Ice," the CHP says. Big hail flurries in Eureka, Ferndale just now. –HS
###
UPDATE, 7:58 a.m.: Big rig blocking the roadway near Berry Summit, the CHP says. —HS
###
UPDATE 7:08 P.M.: Marty Messenger of County Roads says chains required on Alderpoint and Bell Springs Roads and carry chains on Shelter Cove Rd.
###
Snow is falling in mountain passes throughout the Humboldt, Trinity, and Del Norte areas.
According to CHP dispatch, Hwy 299 has chain control just west of Willow Creek. Berry Summitt is white with snow
SoHum Awareness's Facebook page has an update by Marty Messenger of Humboldt Co. Roads. At 5:40 A.M. Snowing on Alderpoint and Bell Springs Rds also on the Shelter Cove Rd. at Paradise Ridge.