Law Enforcement Evacuates Fortuna Motel–Suspect Still Inside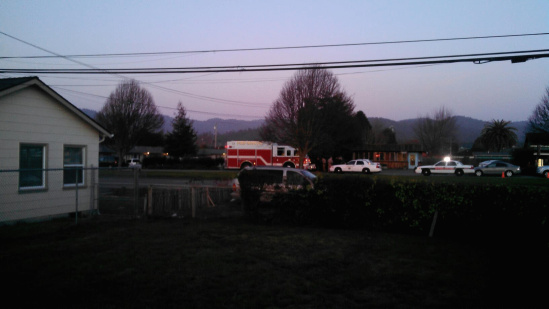 Photo of the motel and law enforcement surrounding it provided by Molly Dekens
UPDATE 11:15 P.M.: The Times Standard's Facebook page is now reporting that law enforcement mistakenly believed that Sean Hawk, a man wanted for a fatal hit and run that closed Hwy 96 for several hours on Sunday, was inside the room. Instead, another parolee was arrested when he came out of the room earlier. Police still believed that there was a second man inside the room for some time. However, "A robot sent in found no one in the room, then the SWAT team entered." The TS has more details.
UPDATE 9:25 P.M.: Scanner traffic indicates the event is wrapping up. A witness, Molly Dekens, says that officers stormed the motel but "they didn't find anyone in the room." This has not been confirmed but LoCO has a question into the Humboldt Co. Sheriff's office. Dekens says the "majority of the cop cars have cleared out." The scanner indicates that traffic, at least in the southbound lane, is being allowed through
UPDATE 8:40 P.M.: More photos added below map.
Original post below:
————
According to Fortuna resident Chelsea Koon, dozens of law enforcement from Humboldt Co. Sheriff's to Fortuna Police to the FBI have surrounded and evacuated the Six Rivers Motel in Fortuna. Fire trucks have blocked off South Fortuna Blvd. from approximately Redwood Way to Newburg Rd.
According to Koon, the law enforcement arrested one person soon after their arrival on the scene as they were evacuating the motel. After the motel was cleared, they began urging someone inside to "Come out with your hands up. The building is surrounded."
Not long after that a male wearing a dark hoody with 707 emblazoned on the front came out with his hands over his head and he was placed in the back of a police car.
Koon says that the officers continued to demand that someone come out. Law enforcement has set up "Scene" lights around the motel. LoCO will keep you updated as more information comes in
Below is a map of the area.
[googlemaps https://maps.google.com/maps?f=q&source=s_q&hl=en&geocode=&q=six+rivers+motel,+fortuna,+ca&aq=&sll=37.269174,-119.306607&sspn=20.879255,44.538574&t=h&ie=UTF8&hq=six+rivers+motel,+fortuna,+ca&hnear=&radius=15000&ll=40.583745,-124.147933&spn=0.071946,0.071946&output=embed&w=425&h=350]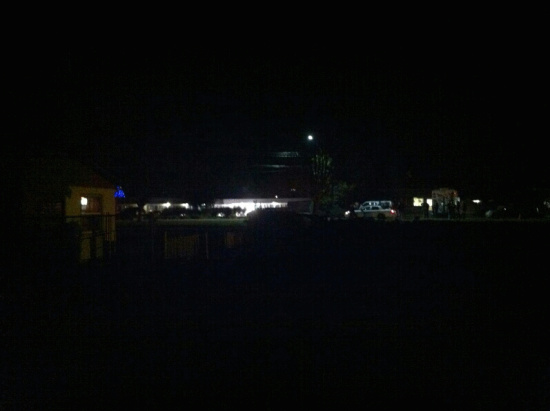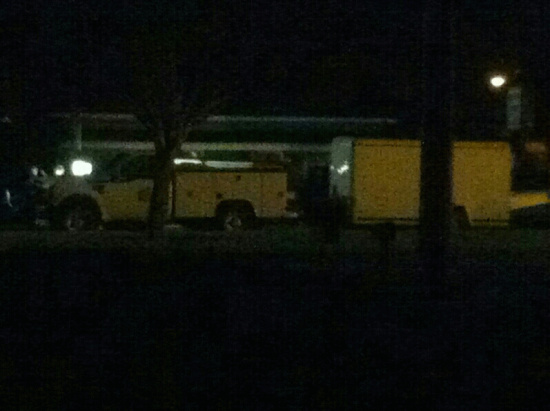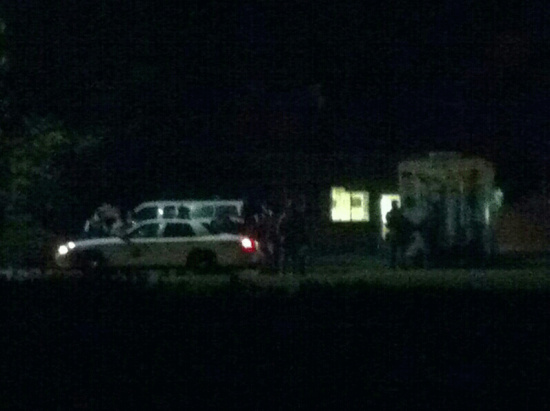 These photos were provided by Chelsea Koon.