Man Arrested in Redway after Chase up Steep Hillside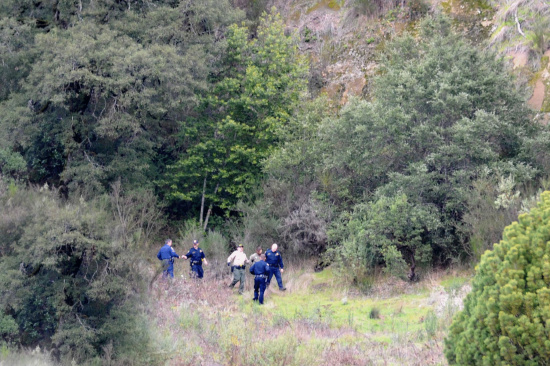 Photo above shows two CHP officers on the left exchanging a fist bump after capturing a fleeing suspect.
According to Lt. Steve Knight of the Humboldt Co. Sheriff's Dept., a person ran off during a traffic stop by the CHP today in Redway. A sheriff's deputy responded and assisted in the capture.
Sara Jaynes, a local photographer, said she saw the suspect being led to the car and said that a witness told her that a CHP officer pulled over a truck with a homemade camper in the True Value parking lot in Redway around 3:30 P.M on Monday. The witness told her that when the officer began to search the vehicle, the man took off on foot up the steep hill behind the True Value store.
Jaynes says she arrived "about 4 and there were 3 police cars blocking his truck/home made camper and 4 more in the circle behind True Value." She saw the officers bring the suspect down the hill and managed to capture the fist bump two CHP officers exchanged.
More on what was in the vehicle and who the suspect was when a CHP spokesperson is available to answer questions tomorrow.
————–
Note: a travel trailer was cloned out of the bottom left of the photograph.