Laytonville Girl Missing Since January 12th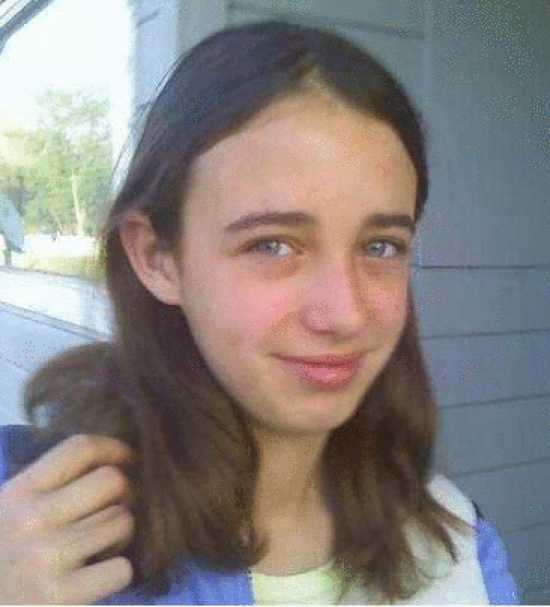 Missing teen, Katrina Hamilton
UPDATE 2/1: Shanda Rial Centeno, who has been very involved in the search, has spoken with the Mendocino Co. Sheriff and Katrina Hamilton has been located with her mother.
Original post below.

Around twenty parents searched the blackberry bushes of Harwood Park in Laytonville today. They were looking for some evidence that Katrina Hamilton had been there–a knapsack or other personal item. On January 12th, the 5 foot, 3 and a 1/2″, 132 pound, 17 year old had told family that she was going to the area to do some art work. She has not been seen since. According to Angela Grimes, her stepmother, the teen has daily medication she should be taking. The last time she took it was on the 12th and Grimes is very worried about the possible consequences.
Anna Salmeron, a local parent involved in the search said, "We searched the blackberry bushes, handed out flyers and set up an information station." They are trying to get the word out to the Northern California community. Salmeron said she is worried. The teen has been known to disappear for a few days before but the girl has been missing for awhile. If the teen has run away, Salmeron says she and the other parents want Katrina to know that even "if she doesn't want to come home to her family, at least come home to us."
Mendocino Co. Sheriff's Press Release below:
On January 16, 2013 The Mendocino County Sheriff's Office was contacted by family members of Katrina Hamilton (AKA Katrina Bishop) to report that she was missing from the Laytonville, California area. On January 12, 2013, around 3:30 PM, Katrina indicated to family members that she was enroute to Harwood Park to do some art work in the park. Katrina has not been seen since. Deputies searched the Harwood Park area but were unable to locate Katrina.

Local residents have posted flyers for Katrina around Laytonville and on the internet. Deputies have continued the investigation, following up on numerous leads and searched several residences without success in locating Katrina. Leads have been followed up in Ukiah, Willits, Laytonville, and Kelseyville without success.

Anyone with information in regards to the possible whereabouts or disappearance of Katrina are asked to contact the Mendocino County Sheriff's Tip-Line at (707)234-2100.