High Risk Missing Person [NOW FOUND]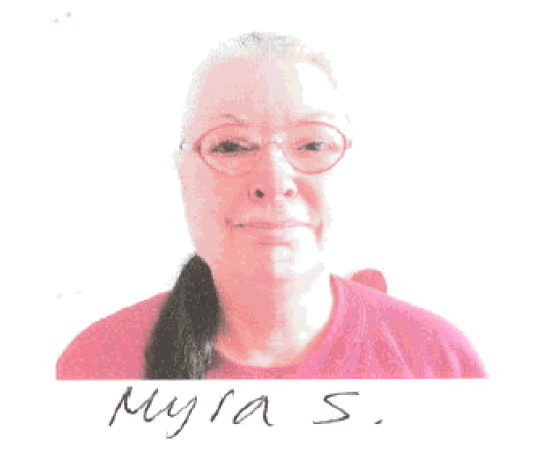 UPDATE 1/23 12:25 P.M.: Sheriff's Dept. Press Release:

On 01-23-2013, approximately 9:00 a.m. , five Humboldt County Sheriff Search and Rescue volunteers and two trained Search and Rescue Deputies met at Eggert Road, Eureka and expanded the search area for missing person Myra Sheek. At approximately 9:40 a.m. a search and rescue volunteer found Sheek hidden in thick brush. She was located approximately 150 feet on the northside of the roadway near the intersection of Ridgewood Drive and Eggert Road, Eureka. She indicated to the Sheriff's personnel that she did not want to be found. Medical Personnel were immediately summoned to the scene and Sheek was transported to a local hospital for treatment. She did not appear to be injured, only dehydrated and cold. Sheek is expected to make a full recovery.
UPDATE 1/23 10:30 A.M.: Myra Sheek, a resident of Aguilar Manor Assisted Living Facility, went missing last Friday. The Sheriff's Department had requested the public's health in looking for her. She has been found! She was speaking to people and has been taken to the hospital.
Original post below:
Humboldt CO. Sheriff's Press Release:
On 01-18-2013, approximately 11:30 a.m. the Humboldt County Sheriff's Office was notified by the owner of Aguilar Manor Assisted Living Facility located at 6433 Eggert Road, Eureka, that a resident, Myra Sheek, was missing. The resident went for a walk at 11:00 a.m. that day and did not return. Normally Sheek never walks more than a block away from the home and returns within a short period of time. The owner told the investigating deputy that the missing female has some medical issues which raised the concern for her welfare.

Deputies and Sheriff's Citizens on Patrol (S.C.O.P.) searched the area for Sheek, but could not find her. Several neighbors were contacted but had not seen her.

The Sheriff's Office is requesting the publics help in locating her.

Myra Sheek is described as follows: 61 years old, White Female, 5-6, 200 lbs, brown hair and brown eyes. She was last seen wearing a denim jacket, yellow sweat pants. She wears glasses.

Anyone with information for the Sheriffs Office regarding this case or related criminal activity is encouraged to call the Sheriffs Office at 707-445-7251 or the Sheriffs Office Crime Tip line at 707-268-2539.