Mattole–Working Together to Save a Beloved Skate Structure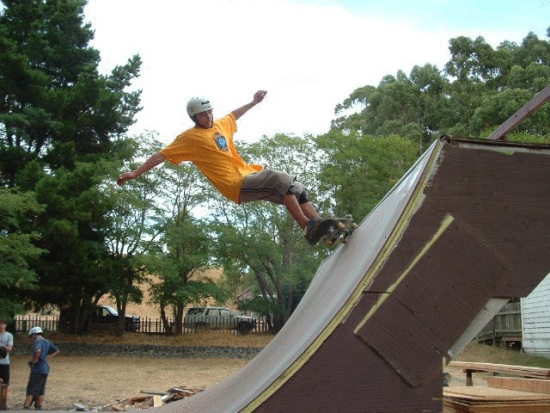 Enjoying the Mattole Half Pipe (photo from the Mattole Half Pipe Facebook page.)
One day the Mattole half pipe is open for fun and the next–December 5, 2012–the Mattole Valley Community Center (MVCC) has to prevent local kids from playing on it. The MVCC's insurance company noticed the ramp this October and sent a letter asking to have it taken down. When Dave Grant was notified by the board, he began seeking for ways to keep the structure up.
Designed by a local youth, the half pipe was brought to fruition by a group of determined community members. Dave Grant remembers that many people worked on it. One local woman with the help of others pulled together a couple of grants to add to money raised in the community. In three days, Grant said, a group of parents, kids, and volunteers built the ramp from the ground up.
For years, Grant remembers, there were events centered around raising money for the ramp's insurance. There were parties with music, food and skateboarding demo's. In 2003, they even received a donation in the name of a Garberville youth, Navarro Carpenter, that covered the cost of insurance and maintenance that year. Usually though, community worked to raise money for the ramp's insurance. Eventually, however, they quit buying it. "We were just kinda under the radar for about six years," Grant explains. In fact, he says for the last few years that there are "not really a whole lot of people that use the ramp…mostly kids sliding."
But the threat of dismantling the half pipe brought a good section of the community together. There isn't much, Grant explained, for local kids to do and so people wanted to preserve this structure. A notice on a community email bulletin board brought a pledge of $100 dollars for insurance and repairs. Quickly, others stepped up to donate. "As of now, we've reached our $2500 we hoped to get," Grant announced. With the new energy, folks have formed a club under the MVCC and are exploring options to get insurance. "Hopefully," Grant says, "we can work with Southern Humboldt Community Park [and] join forces and split costs with them" on the half pipe in the park.
Now that there is renewed energy pouring into keeping the half pipe open to all, Grant hopes to bring back the skateboarding demos and the fundraising parties with music to pay for the insurance in the coming years.
Grant says, "All those kids that the ramp was made for are gone out of the Valley now. But that is alright. There are more kids."
Photos taken from the Mattole Half Pipe page with permission.