The Wreck, the Cross, and the Photographer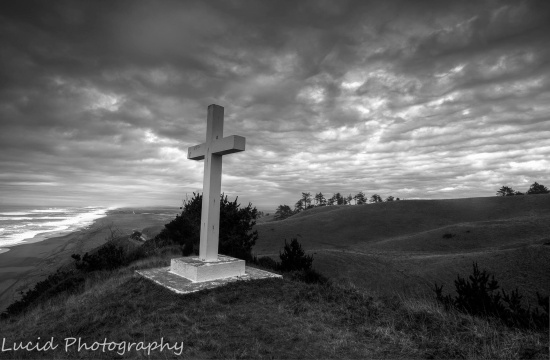 In January of 1860, the SS Northerner hit a rock and began taking in water. Attempts to get passengers and crew to shore were hampered by a storm. Thirty-eight people drowned desperately attempting to get to Centerville Beach. Read the dramatic tale here.
A monument was erected in 1921 to commemorate the event. That monument was destroyed in the series of high magnitude earthquakes in 1992. In 1995, a new monument was installed.
Ryan Johnson of Lucid Photography took this striking photograph above. Prepare to be mesmerized by his incredible shots here. Or follow Lucid Photography on Facebook here. Johnson came to Humboldt in 2001 to attend CR. Eventually he graduated from HSU. "I've never wanted to leave," he said. He married a woman from Petrolia and enjoys "the whole way of life behind the Redwood Curtain."
Photography he says has "changed the way I look and interact with Humboldt." While many of his shots are taken outside the area, many are quintessentially North Coast. In fact, his photography is printed locally by another photographer. He believes that many people enjoy purchasing something entirely from within Humboldt–from the shot, to the history behind the shot, to the actual printing.
Map to the Centerville Beach Cross here.
LoCO will be introducing a regular photo feature soon. Photographers who wish to have a shot showcased along with a link to their work can submit them to mskymkemp@gmail.com