Loleta Meat Market Evicted–Town in an Uproar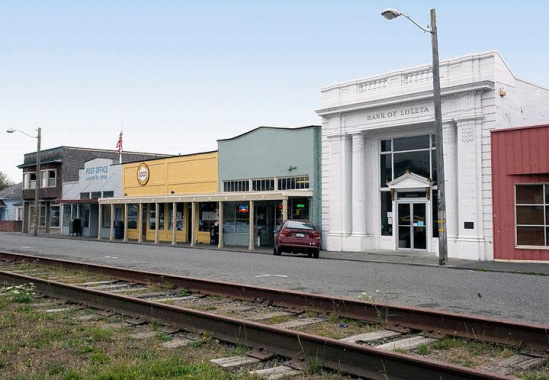 Photo from the Loleta town Facebook page
UPDATE 3pm, 1/11/13: Earlier today, Jenny Aubrey, former Loleta Meat Market employee and daughter of owner Pixie Setterland spoke with Larry Trask, host of the afternoon radio show on KHUM. Audio below.
###
Yesterday, Pixie Setterland, the owner of the Loleta Meat Market was handed a 60 day notice to vacate premises that the market has occupied for 81 years. According to Setterland, her landlords, Peter and Jeanne Van Der Zee who own the popular Loleta Bakery have done well with their business and want to expand next door into her business.
"I'm happy they are doing well… I don't think when they put in the bakery they knew how big they would grow," Setterland explained. However she says, "I'm heartbroken. This is my livelihood." She also says her business is a historic part of the town.
John Oswald, a former Loleta Chamber of Commerce President and current Board member explained that "Pixie is essentially the honorary mayor of Loleta and is a big part of our downtown community." Furthermore, he says, "This is a core business. There is so much history." He says that he is speaking only for himself not the whole board but he worries that "the town seemed like it was staging a comeback here" but this would remove one of the key parts of the community.
The response to the eviction has been enormous. Immediately, the quiet, picturesque town of Loleta (pop. 783) morphed into a hornet's nest of activity. A rush of messages and emails were sent to each other and to media from community members and customers of the market. The community is in an uproar.
A petition to save the market was started. The comments on the petition are passionate in support of the small business. For instance, a Sara Starr posted, "The main reason I stop in Loleta is for the meat market and its wonderful selection of local sausages. If it is closed, I have no incentive to visit the town and hence the bakery. You will lose business if the meat market is gone. Please rethink your plans."
Another commentor, Velma Town, added her online signature with the impassioned plea, "Help save one of the few businesses still left in our wonderful little town of Loleta, great memories there. Do they want to preserve the history of the town or destroy it! What are they thinking!"
A Facebook page, Save the Loleta Meat Market, was started by Setterland's daughter and already has over 650 members. Among others, Josh Gatlin posted an equally passionate response,
Since my family and I have moved to Loleta, we try to purchase most of our meats from Pixie at the meat market. Supporting local business is not the only motive for our frequent visits. Pixie's prices and quality of meat are enough to gain our loyalty, let alone her charming and endearing personality. We feel (felt) the same about the bakery until now. The meat market has been around for decades and should be here for decades to come. Everyone understands that successful businesses must expand and adjustments have to be made to do so, but forcing an iconic business like the meat market out of the community of Loleta is not the way to gain friends or to grow at all.

My family and money will stand with Pixie and will no longer go to the bakery, which absorbs it's healthy share of our income, until they can come up with a better solution for their expansion.
There is a picket scheduled for this weekend in front of the Loleta Bakery. The Facebook page of the popular bakery was inundated with complaints and is no longer available. Their webpage however contains the statement,
Hopefully, there is a place for everyone, and that everyone eventually finds that place… even though we are newcomers- we somehow belong.

The hamlet of Loleta has had to alter its posture a great deal to accommodate us. We have created traffic issues, resulting in the need for Loleta's first-ever stop sign, as well as its first one-way street. Change is challenging, but the village has been patient, graceful, and welcoming. We, in turn, set end-of-day breads and pastries out each evening as an offering back to our community. The "thank yous" and waves assure us of our sense of belonging to something greater.

The sense of community that has manifested within the bakery is as magical as what abounds outside its walls. …We delight in all of this… and we find ourselves humbled.

We only hope to continue to be offered the opportunities to be a part of this grand region, this richly layered community….
It is not clear whether this statement has been up all along or is a response to the situation. The owners of Loleta Bakery did not respond to phone calls or to messages in order to comment.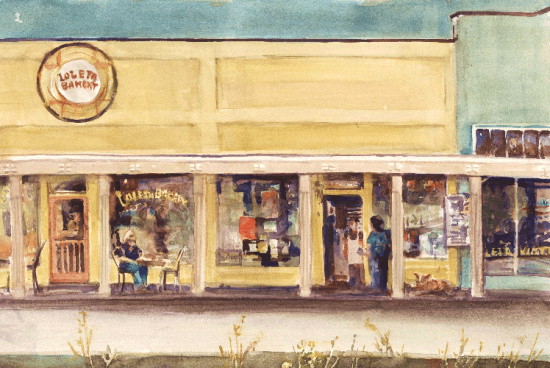 The above image is on the Loleta Bakery's webpage. The yellow building is [both] the bakery. The other is the meat market. and the meat market.