Drift Boat Sinks near Richardson Grove–Rescuers Attempting to Save Men Now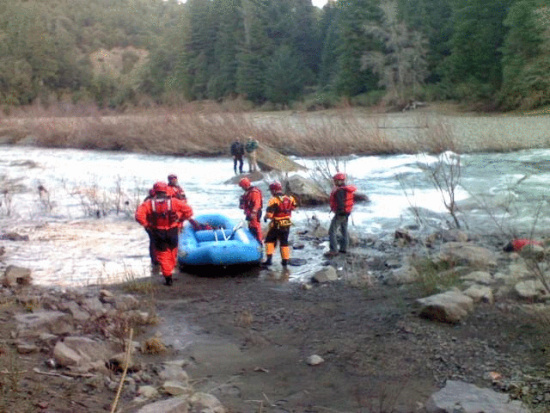 UPDATE 6 P.M.: Rescue is complete! The Southern Humboldt Technical Rescue Swift Water rescue team was able to bring both men in safely. Two boaters who were stranded earlier this afternoon when their boat hit a rock have been brought safely to shore.
In Kai Ostrow's first job as Chief of the team, everything went smoothly. Diana Totten, former chief, said that it was "amazing to watch [the team's] professionalism. Ostrow has been a huge part of the team since its inception. He is an outstanding and highly trained individual. It is a huge thing to have his expertise."
Totten pointed out that most of the people there were volunteer fire fighters. "If those guys hadn't been there, the Sheriff's Rescue team would have had to come out of Eureka. It might have been after dark before they could have got there." That, she said, would have made the rescue immensely more difficult.
"For the most part," Totten explained, "all rescue teams are volunteers" including the Sheriff's team. "Both teams are excellent," she said then added that everyone worked together to help the two men. State parks knew of a road to the area and were able to open the gates. The Chp was there. Garberville Fire Dept. was there as well as Fortuna Ambulance, the Humboldt Sheriff, and Calif. State Parks.
The rescue team tied a rope to the boat and tomorrow the owners will be able to recover it. This is important not only for them but to keep other boaters safe. Tomorrow, there will be other drift boats and this boat wreck is a hazard says Totten. "There's not much room for other boats to go by," she explained. "It is imperative to get it out so other boats won't crash there.
More photos below: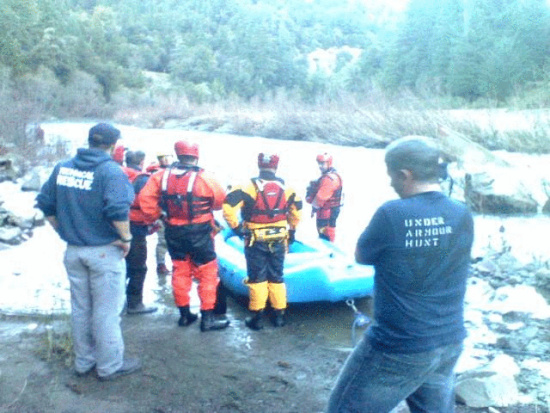 Contemplating the rescue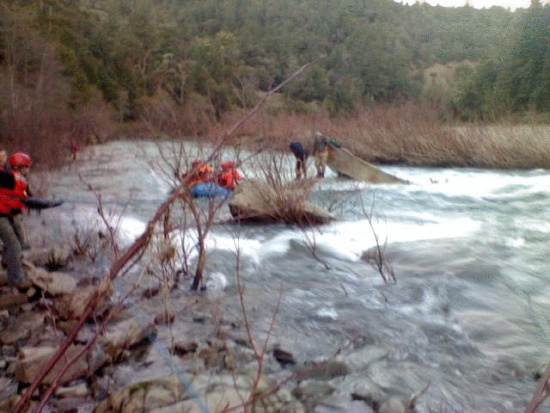 Approaching the stranded boaters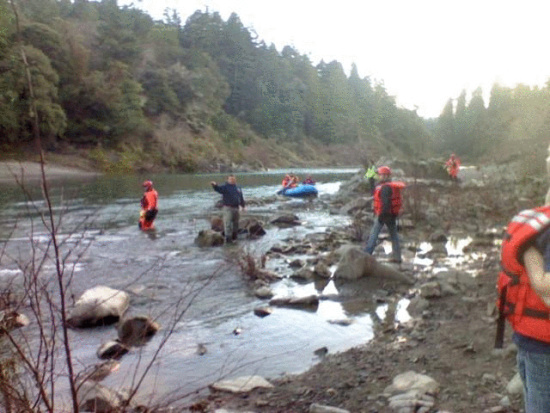 Working together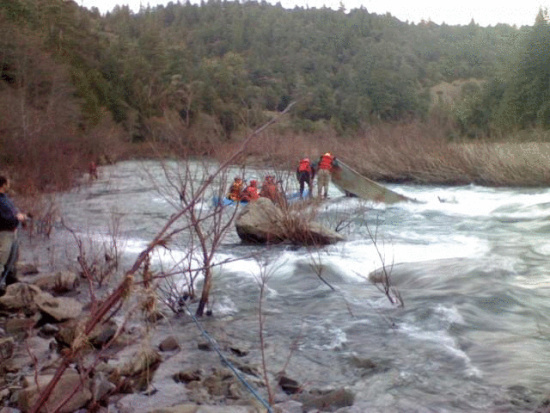 The stranded men are outfitted in protective gear before being brought back and a rope is tied to the boat to make bringing it back in tomorrow easier.
————————–
According to Diana Totten, a former rescue worker and a spectator, a drift boat hit a rock and is sinking near Singing Trees. Two men have scrambled from the boat and are on nearby rocks. They managed to contact help and Southern Humboldt Technical Rescue Team is on site and gathering resources to begin the rescue.
According to Robin Fleckless who works at Singing Trees, there are 4 to 5 drift boats a morning passing through. The water has begun clearing and fish can be seen near the banks so the boats are carrying fishermen down the Eel relatively frequently.
Updates will be posted as soon as more information comes in.
——————
Photos provided by Diana Totten