I'm Not Interested in Mom and Pop Growers, Says Sheriff Downey
Kym Kemp / Saturday, Sept. 1, 2012 @ 1:53 p.m. / marijuana , News
Sheriff Mike Downey in his office
UPDATE 9/3: At the request of our readers, I asked Sheriff Downey to clarify what makes a Mom and Pop. He responded,
… my direction to the sergeant in charge is to focus on the large commercial, environmentally sensitive and destructive grows. Especially those by non-residents who are in this to capitalize on our forests, watersheds and natural resources and then leave with a pocket or suitcase of cash leaving a mess for us to deal with. I believe we could keep busy with those types of growers for years. With that stated there is always, during our investigations, the possibility of eradicating smaller grows but that is not our main focus. Also not all of those with the high profit mega grows are non-resident. There are those who a long and short term residents who fit into that category. The main thing is to stem this assumption by some that profit overrules concerns of health, safety and the environment.
–––––––––––––––––––––––––––––-

"We've got enough large scale industrial grows in Humboldt County," stated Sheriff Mike Downey, "to keep me busy for years. I know there is still a lot of mom and pop's out there making a little bit of money to pay their taxes and maybe go on vacation—I'm not going to get to those people. It's just not within the realm of possibility considering what we are seeing out there in the field. I've never seen marijuana cultivation to the extent we've seen it now." (See the photos taken by the Dept. of Fish and Game and Supervisor Mark Lovelace this week. While not all of the areas shown are large grows, or have been proven to contain marijuana, and not all are particularly environmentally damaging, the photos still indicate the density of cannabis production in this county.)
Downey says he sees a difference between the mom and pop outlaws and what he fears are criminals with ties to cartels. He points to a recent bust in the Panther Gap area in which dozens of Eastern Europeans, many Bulgarians, were involved. He notes the huge Hoopa raid where over 26,500 plants were pulled. He thought this grow might possibly be tied to a Mexican cartel. He says that in his term of office he is dedicated to "taking care of that criminal influence." While not everyone is convinced that there are cartels behind the large grows, he says, "I believe there is a moderate influx of organized crime coming in to Humboldt County 'cause they see the opportunity to make money and make it quick so that is why I've asked the feds to help."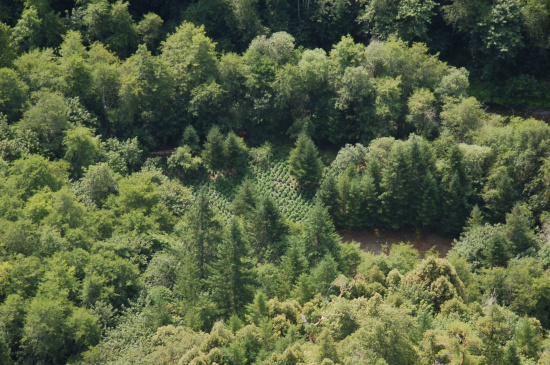 Photo from raid on the large Hoopa grow.
CAMP (Campaign Against Marijuana Planting) may not exist next year due to budget cuts, Downey believes and, in any case, the agency will not assist with serving search warrants on private land which makes them of somewhat limited use in reining in many of the large grows. "Last year," he said, "I had started to see the handwriting on the wall as far as state assistance goes in dealing with the drug issues in Humboldt County. …The state had basically turned off the light… and didn't even kiss us goodbye and just walked out the door."
"I need help," Downey explained. He feels that reinforcements are required to deal with what he believes are large numbers of industrial strength marijuana growers. Last fall he went to Melinda Haag, U.S. Attorney for the Northern District of California, and showed a power point presentation delineating the size of the problem. "We have an enormous marijuana problem in Humboldt County," he asserted. He then went on to explain, "The enormous problem that I am referring to is the purely commercial, large scale marijuana growers that are coming here like they did in the gold rush days. Coming in to make it big and get out and leave behind the environmental and ecological disasters we are seeing now in our forest… I want assistance with that."
Marijuana production, Downey believes, has increased the violent crime rate in this area. According to his presentation to Haag, between 2003 and 2011, "there were a total of thirty-nine (39) homicides investigated by the Humboldt County Sheriff's Office. The identified drug related homicides account for twenty-three (23) of those cases. Therefore; 70% of the homicides investigated by this office were related to either marijuana, other drugs or drug related money proceeds." And, in the same presentation, he adds that during the same time period, "there were twenty-eight (28) Home Invasions at locations where marijuana was either being cultivated, processed or sold. Many of the victims of the home invasions were either shot or stabbed during the incident."
Downey says he is aware that locals are concerned that the federal government might start busting growers indiscriminately, even relatively small ones. "I know," he stated, "you have to be careful what you pick and choose with the federal government but I've been very clear with them as to the type of assistance I've wanted and up to this point it has worked very well. … [Federal Agencies] come in and agree, 'Mike, we are not going to take care of your marijuana problem …We can barely take care of the problems we have in our district alone…but we can surely assist you with those big, identified commercial grows."