Major Fire in the Eureka Area
UPDATE, 8:28 A.M.: Images from the fire, take at about 7:30 a.m., posted below. This thing was massive — it consumed a good portion of one of the big yellow terminals in the Fairhaven industrial park and has destroyed a number of businesses. Fox Farm Fertilizer, which appears to be the building's principal tenant, seems to have survived with only some damage, but other operations have been completely destroyed. –Hank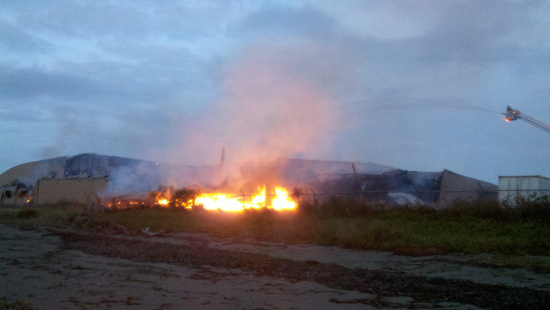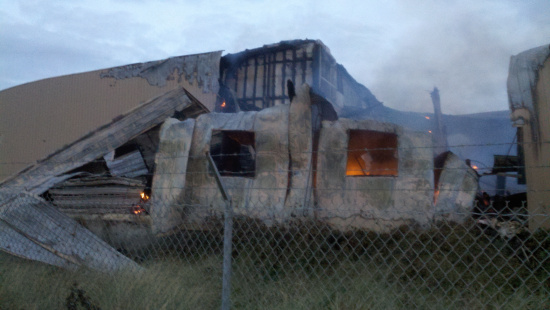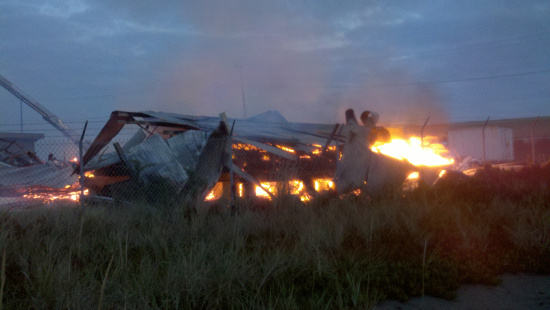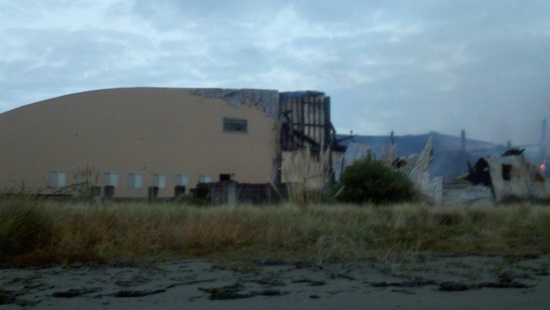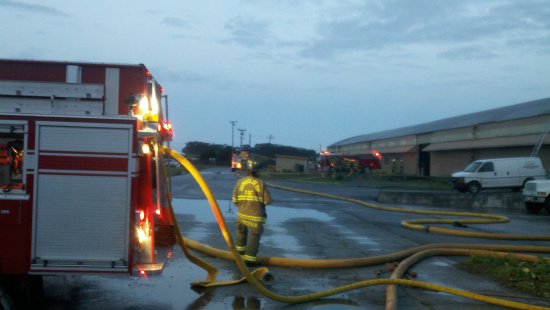 UPDATE 7:43 A.M.: Scanner voice: "We appear to have a handle on the fire at this point. We're going to call it as forward progress stopped at this time."
UPDATE 7:40 A.M.: Photo of the building in question as per this site.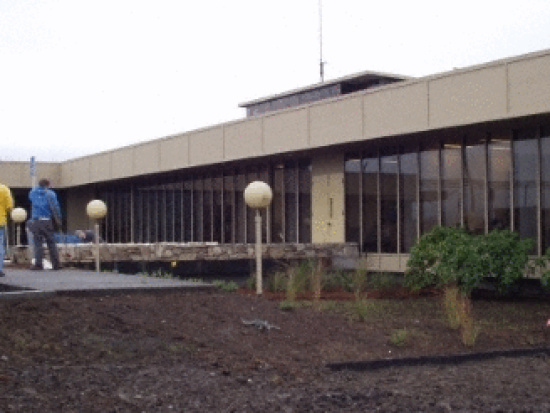 UPDATE 7:07 A.M.: I hear reports that, "Redway fire, Garberville fire, Miranda fire, Blue Lake, Scotia, Rio Dell fire, Ferndale fire, have all been called north responding code 3 because of a request for five type 1 fire engines and other resources. Massive commercial structure fire in Samoa that started in the wee hours of the morning. They discovered it early, but have been calling more and more resources throughout the night. Part of the structure has collapsed.
UPDATE 6:57 A.M.: Multiple reports that this is at the Fox Farm soil plant.
UPDATE 6:52 A.M.: Mutual aid request as far away as Rio Dell, Garberville, Redway on the scanner.
——–
Commercial structure fire 1900 Dixon Street, Building 10. Near Simpson Lumber Co. This is information coming over the scanner. Requests have gone out for local fire departments to come help. Updates as they come in.
Thank you to Diana Totten, former Fire Crew Chief for the tip.
[googlemaps https://maps.google.com/maps?f=q&source=s_q&hl=en&geocode=&q=1900+Bendixsen+Street,+Samoa,+CA&aq=0&oq=1900+bendiFairhaven,+CA&sll=40.790777,-124.194088&sspn=0.009723,0.021747&ie=UTF8&hq=&hnear=1900+Bendixsen+St,+Samoa,+Humboldt,+California+95564&ll=40.790777,-124.194088&spn=0.038893,0.086989&t=h&z=14&output=embed&w=425&h=350]