Sandy Devastates the East Coast
Here, on this blog, we share Humboldt County news but today a short roundup of some top stories from the Frankenstorm that has pummeled the East Coast.
BBC news is reporting that "at least 50 homes" are destroyed by fire in Queens. Here is a interview with a firefighter describing leaping across buildings, breaking out windows and loading around 20 people into a boat (yes, a boat. The streets are flooded.) to get them out of the path of the fire.
Waters have flooded the New York City's subway system. Below is a still shot from a surveillance video. The New York Subway Chief is calling this the worst ever disaster for the system.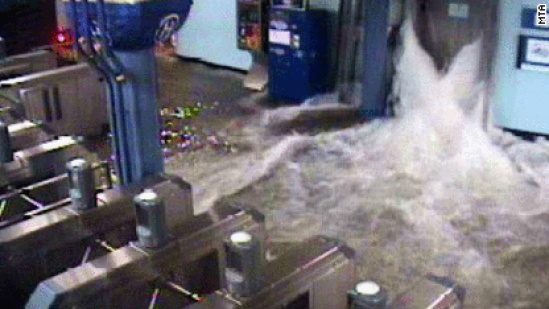 Death toll in the United States as of 6 A.M. Pacific time–sixteen people including a child. Here for more on this.
One of the tall ships, the Bounty, has sunk. One of her crew died as a result. Here is one of the many incredible photos coming out of this terrible storm as well as detailed description.
As many as 10 million people may be out of power. See more here.
Ground Zero flooded—Here.