101 Freeway to be Closed North of Dean Creek Tomorrow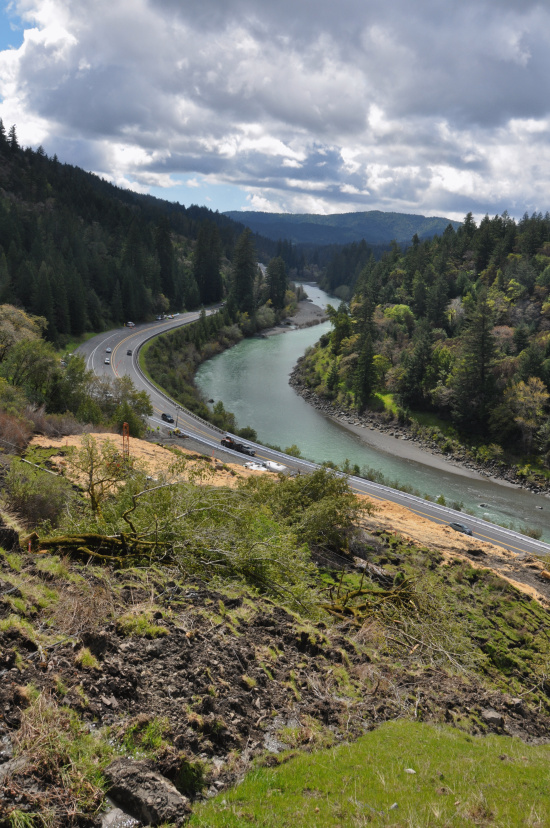 Photo from Spring 2011 of the Dean Creek Slide (see more here)
UPDATE 11:04 P.M.: Still shots taken from a video by local rancher Will Hurlbutt below.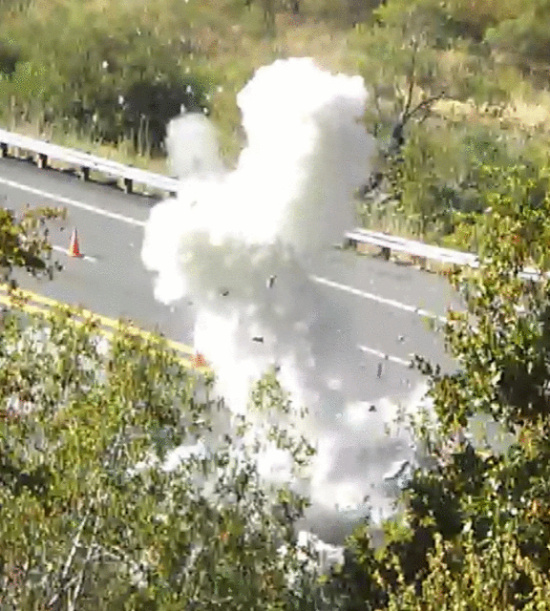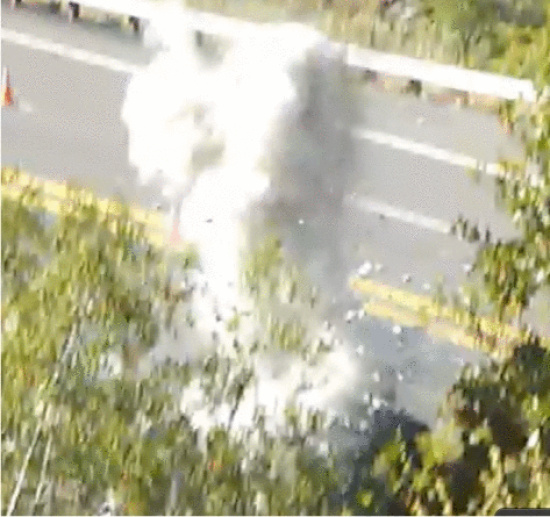 UPDATE 1:45 P.M.:Hwy 101 is now opened. Below is a photo taken by Josh Terrell after the boulder was taken out.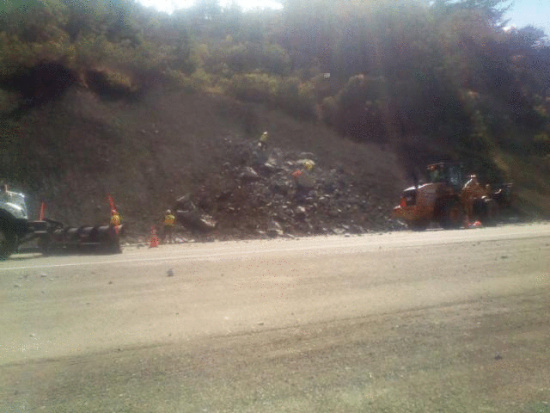 UPDATE 12:45: Terri Klemetson of KMUD is reporting that the CHP just closed Hwy. 101. The blasting operation is supposed to take 20 – 30 minutes. Please spread the word. CHP is stopping the flow of traffic and will re-open the highway when it is safe. There is a report that the blast has occurred.
UPDATE 12:34 P.M.: According to Terri Klemetson, the operation is running behind and still hasn't happened.
_____________________
UPDATE 8:13 A.M.: According to Scott Burger, Caltrans spokesman, at approximately 11:30 this morning, rock blasting will be done north of the Dean Creek slide "for preventative measures." Also, on Hwy 162 at post mile 8.9 at 2:30 P.M. rock blasting will be done also. The road closed will be closed in both directions 15 to 20 minutes. Burger says, "Blasting is rare. It is to remove public hazards only when our equipment can't be used. We have no further plans for blasting in either area following today's operation."
——————————
The entire four lanes of Highway 101 will be closed tomorrow, Thursday, October 25th for 20 to 25 minutes sometime between 11 A.M. and 12 P.M. tomorrow [slightly north of] at the site of the Dean Creek slide (mile post marker 16.4) which is just north of the Dean Creek exit. According to CHP Officer, Matthew Harvey, Caltrans maintenance crews will be "doing some blasting. Because of that, they can't have any vehicles come through." There will be no authorized detour for the relatively small window of time that the road will be closed. CHP will have units stationed on either side of the work site in order to be able to respond quickly to any emergency that should arise during the closure.
In March of 2011, the road was closed for a week and traffic was affected for much longer. See here for photos of the slide. The slide is still moving and Caltrans continues to work to ensure that the road will not be closed long term by the mass of rocks and trees above.
The CHP advises motorists to plan ahead and avoid driving this route during the closure. The CHP will be on-scene to provide traffic control. For further questions, you can contact the California Highway Patrol Garberville Area office at (707) 923-2155.