Fracas in Garberville's Veteran's Park Leads to Three Arrests and Injuried Deputies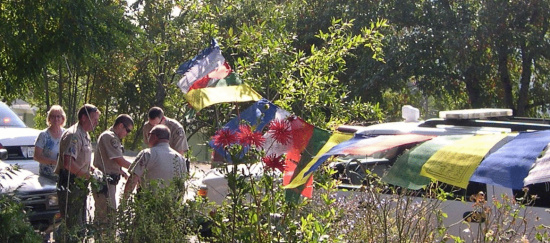 Officers gather across the street from the Garberville Veteran's Park (Jim DeMulling Memorial Grove)
A fracas in Garberville's Veteran's Park during midday on Sept. 27th led to three arrests and two injured deputies. According to Dominic Corva, a visiting faculty member at New York's Sarah Lawrence College who is in the area gathering information for a research paper, a young man in the Vet's Park began screaming. Corva said he had just stepped out of the Tiger Lilly Bookstore across the street from the park. He was getting ready to smoke a cigarette when he heard a man yelling that someone was trying to kill him. To his surprise, officers arrived on the scene fairly quickly. The young man had by this time crossed the road and, according to Corva, "was clearly having a bad acid trip or a mental health issue or both."
The officers attempted to subdue the fellow with limited success. During the struggle, one officer fell into the flower bed at the bookstore. "Almost immediately his face began bleeding," Corva said though he wasn't sure what caused the injury. The officers tasered the young man twice but he continued to fight. At one point, says Corva, another person whom he heard called "Tweaker John" attempted to help the officers by putting the young man in a headlock. According to Corva, this wasn't helpful.
However, other bystanders worked with the officers to help subdue the young man. Corva said that nearly everyone had identified the youth as being out of control. "Almost everyone around were helping the officers out," Corva explained. Though there was one notable exception. A young blond woman came from the park, Corva said, and began to scream at the officers in defense of the young man. Corva says she wasn't being physically aggressive though she was yelling. The officers "knocked her down and restrained her." She was arrested also.
Corva said he heard from others at the scene that the young man had "started flipping out well before this. He had taken a swing at others." A third man was arrested, according to Corva because a witness convinced the deputies that the man had "incited" the situation with the young man.
According to Lt. Steve Knight who plans to put out a press release tomorrow, "Everyone, including [the] suspect who fought with the deputies will be fine."
The homeless or traveling population has been a sore point in town for a few years. The tension often gets worse during the marijuana harvest when migrant workers drift into town in large numbers. "The transient population is becoming a flashpoint for local law enforcement attention," observed Corva. Kathy Epling, part owner of the Tiger Lily, worries that only the negative behavior at the park gets attention. She said, "What I truly dislike is that day after day goes by with peaceful nice things going on at the Vets Park and then suddenly there is one emotionally disturbed individual and it is a fracas, news."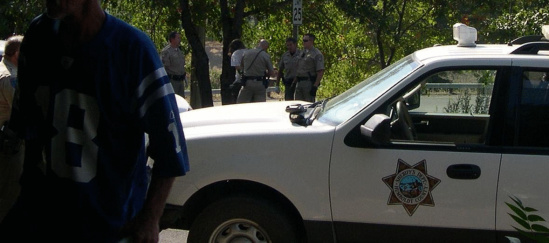 Relatively peaceful arrest of a third person who, according to Kathy Epling,was accused of in someway provoking the first person arrested.
———————————————————————————————————————
Photos taken by Kathy Epling, part owner of the Tiger Lily Bookstore, which is across Garberville's main street from the Veteran's Park.