Fire Resources Stretched Thin in Northern California
[googlemaps https://maps.google.com/maps?f=q&source=s_q&hl=en&geocode=&q=+N39+09.0+W123+03.02+&aq=&sll=39.154025,-123.044128&sspn=0.318677,0.695915&ie=UTF8&ll=39.15,-123.050333&spn=0.318695,0.695915&t=m&z=12&output=embed&w=425&h=350]
Map arrows indicate rough location of newest large fire, the Scotts Fire.
A series of large fires are sweeping Northern California. West East of Ukiah about 7 miles is the newest of the blazes. Started yesterday (9/7) at a little after one, the blaze grew quickly to 450 acres and began threatening homes in the area of Blue Lakes. The area was evacuated though the evacuation order was later lifted. The fire, as of this evening, is now 3000 acres and only five percent contained. The fire still continues to threaten Hwy 20 and some 300 residences and 40 outbuildings.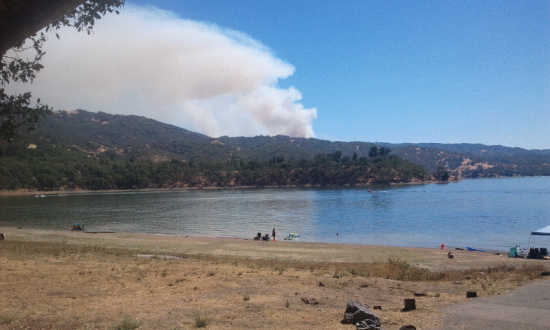 Photo shows the smoke column of the Scotts Fire from Lake Mendocino
Our local Humboldt Cal Fire sent two of our area's three handcrews down immediately to assist. Those empty spots were filled here with crews from the local volunteer fire departments. Briceland VFD is in Garberville replacing the Cal Fire crew. Alderpoint VFD is at the Alderpoint Cal Fire station. Rio Dell VFD is covering Fortuna and Humboldt Bay VFD is covering the Trinidad station.
Friday, the local crews had to fight a fire at the old rifle range off of Redwood Drive. A solar panel overcharged and the battery ignited a 1/4 acre blaze. According to Marty Hobbs of Cal Fire, luckily, "the brush didn't burn" and crews were able to jump on the fire and put it out quickly.
Recap of other fires roughly in our area:
North Pass Fire northeast of Covelo is currently 41,983 acres and 84% contained. Eight residences and eighteen outbuildings have been destroyed so far in the flames.
The Stafford fire in Trinity County, 5 miles southeast of Hayfork, is 3,332 acres and only 15% contained. 225 residences, 28 commercial properties, and 200 outbuildings are threatened. There are mandatory evacuations in effect for several areas. See here for more information.