Harborside, the Oakland Dispensary, Targeted for Closure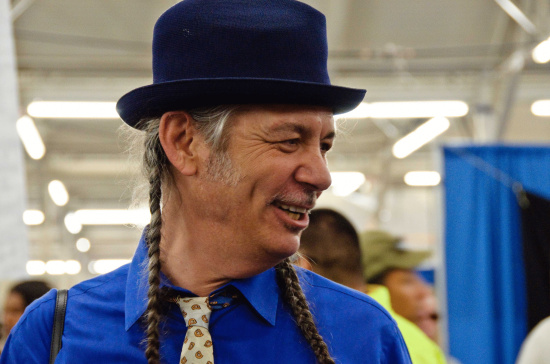 Stephen D'Angelo, founder of Harborside Health Center and one of the stars of Weed Wars, at the 2010 International Cannabis and Hemp Expo.
UPDATE: Press Release From Haborside:
July 12, 2012 – Oakland, California – The federal attack on safe access for medical cannabis patients continues. Yesterday morning, taped to the front doors of the nation's model medical cannabis dispensary, Harborside Health Center in Oakland and San Jose, was an official 'Complaint for Forfeiture of Property.' The complaint is signed by U.S. Attorney Melinda Haag, Assistant U.S. Attorney Arvan Perteet, and DEA Agent David White, filed on July 6, 2012, in the District Court San Francisco Division and received by the court on Sunday, July 9. The complaint seeks forfeiture of real estate and improvements on the grounds that cannabis is being distributed on the premises, in violation of federal law.

This latest federal action to seize property flies in the face of promises made by Haag to exclusively target dispensaries less than 1000 feet from a school, and recent statements from U.S. Attorney General Eric Holder, who stated that only those dispensaries out of compliance with state law would be subject to Federal enforcement actions. Harborside Health Center is neither close to a school, nor out of compliance with state law. The location at 1840 Embarcadero is more than 1000 feet from the closest school, and Harborside is widely recognized as the most legally compliant dispensary in the state, and renowned nationwide.

"Harborside has nothing to hide or be ashamed of," said Steve DeAngelo, Executive Director of Harborside Health Center. "We will contest the DOJ action openly and in public, and through all legal means at our disposal. We look forward to our day in court, and are confident that justice is on our side."

Harborside Health Center employs over 100 people, and is Oakland's second largest retail tax payer. Last year, HHC paid combined taxes in excess of $3 million, over a million dollars of which went directly to the City of Oakland. Should Harborside be forced to close:

-Our 100,000 patients will return to the illegal marketplace
-Street drug sales and law enforcement costs will both rise
-Over $3,000,000 in tax revenue will be destroyed
-Our more than 100 current employees will become jobless

"This is a policy that hurts not only those who depend on cannabis for medicine. It will destroy tax revenue, endanger patients, increase unemployment, and empower criminals. Whoever thinks this is a good idea must be smoking something a lot more powerful than cannabis," said DeAngelo.
———————————————————————————–
According to an article in the Sacramento Bee, US Attorney Melinda Haag has threatened to seize the property of Harborside, a popular dispensary with two locations, Oakland and San Jose. Apparently, complaints were found on the doors of the dispensaries' two locations this Monday.
The dispensary which is the scene of Discovery's Weed Wars, is already facing IRS issues because of an odd ruling that it owes for back taxes because it deducted standard business expenses such as rent. Explained Luigi Zamarra, Harborside's chief financial officer to The Bay Citzen, according to this ruling, "…if Harborside bought marijuana for $60, sold it for $100 and used the entire $40 in income to pay salaries, rent and other expenses, the IRS would still demand that Harborside pay 35 percent tax on the $40… ."
There has been an upswing in federal attacks on dispensaries and growers in California's medical marijuana system since last fall.