Fire Near Ruth Dam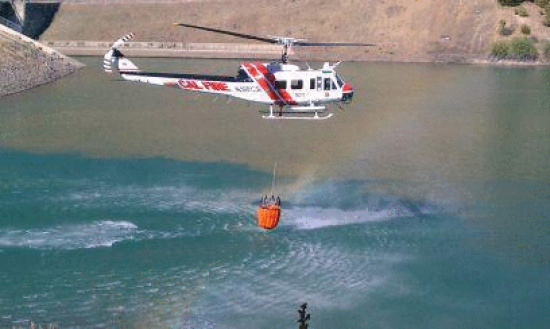 Photo by Cody Bruffett
UPDATE 1:34 P.M. Monday: According to a resident in the area, Ruth is pretty warm at 87 degrees in the shade. However, I just spoke with Public Information Officer Julie Ranieri. She says again that they expect containment today. The helicopters have all left and some crews are being sent home. She reiterated that, in spite of rumors as to the cause, the investigation has not been completed and no information is being released until it is finished.
———————————-
UPDATE 10:18 A.M. Monday: I spoke with District Ranger Tom Hudson a few minutes ago and he says, "We're in pretty good shape. We expect containment today." According to him, they have released some resources from the fire in expectation that they won't be needed. Also the current estimate of the acreage is still under 20.
UPDATE: 9:29 P.M.: Julie Ranieri, Six Rivers Forest Public Affairs Officer, called back just now (bless her for working so late.) She says that the helicopters and tankers have, as usual, left as evening comes. The plan though is to bring back one of the federal helicopters for tomorrow. The incident commander also plans to "keep the fire fully staffed to meet the demands of the fire tomorrow." At this point the fire is under 20 acres but, because of the spot fires which have occurred, they are unsure of the total acreage until they have time to access tomorrow. She said it is cooling off now but then she added, "Please tell people to be fire safe. It is supposed to be hot and dry tomorrow."
The cause of the fire is under investigation and tomorrow a fire investigator is expected to be out there looking into what happened.
————————————
UPDATE 8:44 P.M.: I heard from Doug in the area who told me that he had been watching from nearby the smoke jumpers come in. He was impressed by their actions and called them "courageous." He said that there had been "easily 35 mile an hour winds" but by 7 P.M. the fire was mostly knocked down. The helicopters and the tankers flew off and left the hand crews mopping up.
After surveying the area, the Forest Service is now calling it at 12.5 acres and saying that the fire is mainly under control.
Here's a photo of the fire earlier by Caitlin Canale.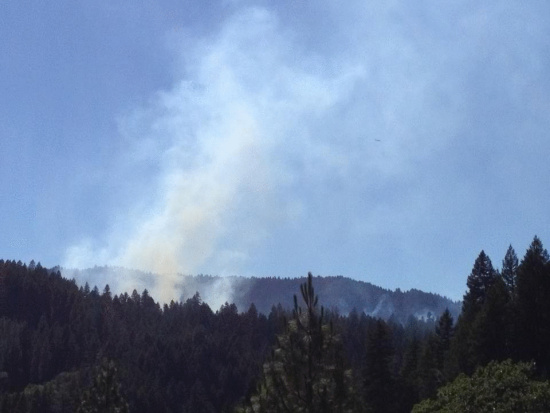 —————————————————————–
UPDATE 4:28 P.M: I just talked with Julie Ranieri, Six Rivers Forest Public Affairs Officer. She says that the fire, now called the Ruth Dam Fire, started before 2 P.M. It is currently at 40 acres and burning from South to North. It has slowed down quite a bit now but there are several spots being worked on. The Incident Commander, Mike Kirkman, is working with two type two helicopters, two tankers dropping retardant, 5 engines and with 2 more enroute. There ae crews from Six Rivers National Forest, from the Shasta Trinity Forest and Calfire. There are 4 Calfire crew there and one Forest Service Hotshots.
Photos of the helicopters fighting the fire can be seen at the Ruth Lake, Ruth Ca Facebook page.
___________________________________
There is fire on the west side of Ruth Lake near the Dam. According to a local who lives nearby, there is at least one helicopter and a Calfire truck fighting the fire. There are hot and dry conditions in the area. I have a call into the command center in Fortuna. Hopefully, we will get particulars soon.