Fire at Dean Creek Slide Today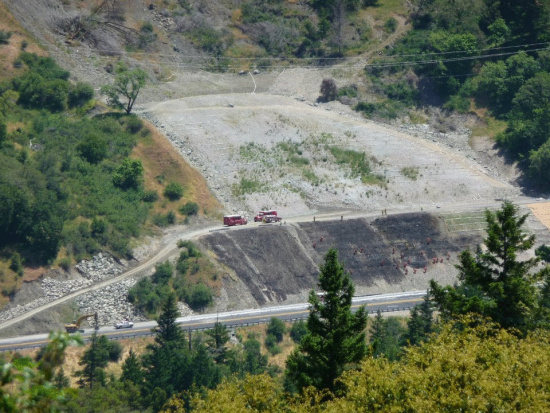 Today a fire broke out at the Dean Creek slide. According to Scott Burger, Caltrans' Spokesperson,
Workers were cutting at pipe at approximately 11:30 this morning…A spark caught fire to jute netting and spread. Workers along with CDF, the Redway VFD, and an inmate crew controlled the fire and the slope was hosed down with water. The fire was contained at 2:30 PM. The CDF will continue to monitor. There were no injuries.

The fire was high on the slope and the traveling public never was in any danger. The road continued to stay open. However traffic was controlled to allow access to emergency vehicles. There were 5 -10 minute delays.
Thanks to Julia Minton who took the photos from air and to KMUD News for permission to use it.