Memorials for CHP Officer Thomas Adams of Fortuna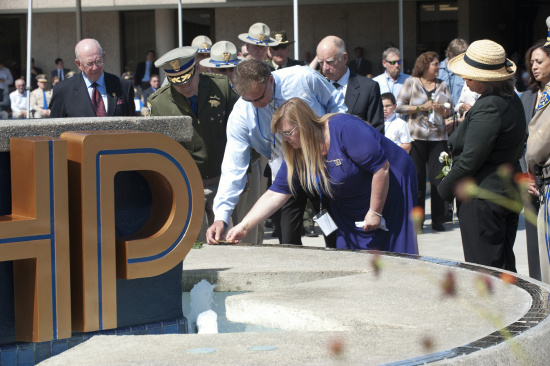 California's highest officials including Governor Jerry Brown and Attorney General Kamala Harris as well as CHP Commissioner Joe Farrow attended memorial services for California Highway Patrol Officer Thomas Adams, who grew up in Fortuna, and graduated from Fortuna High. The young officer was tragically
killed in an on-duty traffic collision on February 15, 2011
, on US-101 near Piercy, CA, in northern Mendocino County. Adams is among the 222 members of the CHP who have been killed in the line of duty.
Above, his parents, Bruce and Karen Adams, are seen placing his name on the CHP memorial fountain. He was honored during two separate memorial ceremonies earlier this week in Sacramento; Monday morning at the State Capitol at the Peace Officer's Memorial, and Tuesday morning at the CHP Academy.
Officer Adams was the only CHP officer to be killed in the line of duty in 2011. His mother, Karen Adams, is currently a CHP Public Safety Dispatcher out of the Humboldt Communications Center in Eureka.
______________________________________________
Photo by Joe McHugh, CHP Senior Photographer shows CHP Commissioner Joe Farrow looks on as Bruce and Karen Adams add their son, Officer Thomas Adams' name to the CHP Memorial Fountain during the memorial ceremony.