Filming Near Myers Flat May be Stifling Some Local Businesses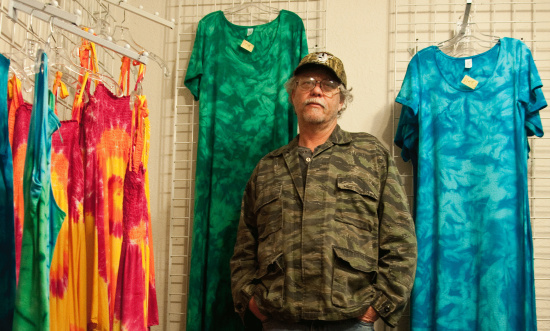 "Let me be clear, yes, … Will Smith and others are in our redwoods, but we… have been shut down since last Saturday when filming in this area started. First, the Avenue of the Giants has been closed from Burlington, no tourists are coming through. Second, not a single crew has been in Myers [Flat] to spend a dime!" Businessman Jim Hensley of 2 Dye for Designs is not happy with the results of filming M. Night Shyamalan's movie, After Earth, in Humboldt County. He claims that up until last Saturday, his small business was getting about $100 per day but then everything dried up once filming started. He made $0 on each of the succeeding days until yesterday in part he believes because traffic stoppage has detoured tourists off the Avenue.
According to Caltrans, the film company Nova Prime, Inc. was issued a "Caltrans Encroachment permit for motion picture filming from Pesula Road to Bull Creek Road..7AM to 6PM 7 days per week…Motorists should anticipate 10 minute delays."
[googlemaps https://maps.google.com/maps?f=d&source=s_d&saddr=Bull+Creek+Road,+Humboldt,+CA&daddr=Pesula+Road,+Humboldt,+CA&hl=en&geocode=FVxHZwIdOFyb-CnHoES-L2fUVDHanLULpIfnzQ%3BFXcNZwId7G6d-CkbrK8kR2LUVDE-nBilF0Fr9g&aq=0&oq=Pesula,+CA&sll=40.182447,-123.774911&sspn=0.009467,0.021747&g=California+near+Avenue+of+the+Giants,+Garberville,+CA&mra=ls&ie=UTF8&ll=40.32948,-123.967525&spn=0.0514,0.13703&t=m&output=embed&w=425&h=350]
However, according to Hensley, members of his family were once told when encountering the stoppage that the road would be closed for 3 hours. The family member then had to turn around and return to the freeway entrance. Also Hensley claims that a tourist complained that his campsite at the Burlington Campground which had been reserved for awhile had been moved to accommodate the filming. And, he had been warned that he must be silent during the hours of filming. Repeated calls over two days for comment to local Park Headquarters and to the Media contact numbers for the state park system were not returned.
Yesterday, I drove up the Avenue and saw multiple signs of the filming. There were signs warning of possible stoppage but I never encountered any. There were campers and visitors at Burlington. However, when I went to enter Women's Federation Grove, a favorite photography spot, there was a gate across the road and a burly man in a large pickup pleasantly but firmly informed me that the park was closed due to filming. Also at the Dyerville Loop Rd., there were multiple studio trucks lining the road as well as two CHP vehicles.
The owner of the Myer's Flat grocery store said she laughed "when I read it is going to bring business to our area." She said she hadn't expected any influx of money.
The coffee shop owner explained that they have not noticed any change for the worse. "Locals keep us going," he said.
Still, Hensley claims his business suffered, "Burlington camp ground was all but closed to tourists and those who had reservations were asked to re-locate and be quiet, because filming is more important [than] the tourist we have to rely on. Thanks Universal and California state parks for crashing my business for a week… But your taxes are in the mail."