Big Rig Overturned Between Eureka and Arcata
UPDATE, 6:35 p.m.: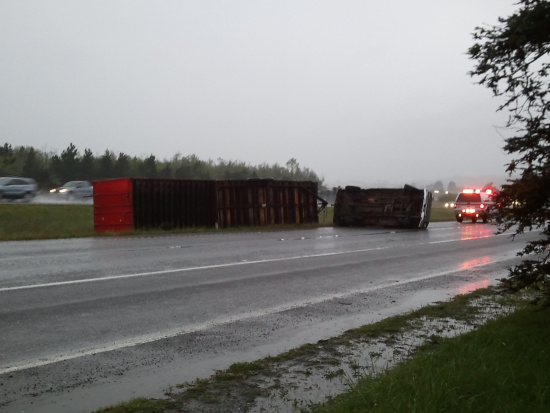 Photo: John Matthews
###
[googlemaps https://maps.google.com/maps?f=q&source=s_q&hl=en&geocode=&q=%0940.827366+-124.083972&aq=&sll=37.0625,-95.677068&sspn=79.857851,178.154297&ie=UTF8&ll=40.827366,-124.083972&spn=0.038775,0.086989&t=m&z=14&output=embed&w=425&h=350]
UPDATE, 6:24PM: The CHP is now saying that it is a pickup truck with a "40 FT" trailer.
###
CHP is reporting that a big rig has overturned between the Indianola and the Bayside cutoffs. The number 1 lane northbound is blocked and someone has been injured.
Try to go around through Samoa if you can to avoid the worst of the back up.