Preliminary Hearing in the Death of Jamal Andrews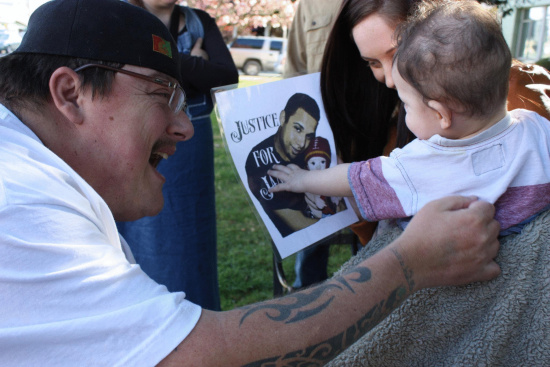 There is a preliminary hearing scheduled tomorrow (Tuesday, April 10) at 1:30 p.m. in courtroom B of the Ukiah courthouse for the case of Billy Norbury accused of the murder of Jamal Andrews. Family members are calling for friends and supporters to pack the courtroom. The photo above of Andrews' partner and son, Miranda Mills and Kaiden, looking at a poster of their missing loved one was taken at an earlier hearing.
The story has touched on issues of race and of mental illness in the county of Mendocino. Andrews was a well known musician and a fundraiser for his son is being held April 18th at the Mateel in Redway.
____________
Photo provided by the Justice for Jamal Facebook page