Wes Chesbro Talks Policy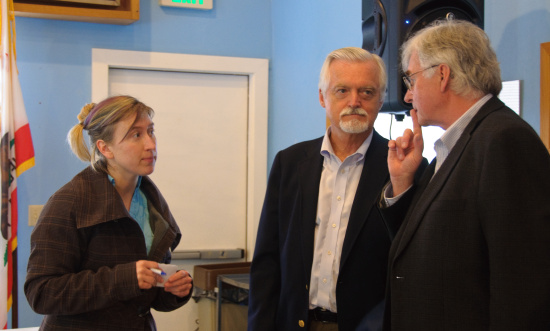 KMUD's Terri Klemetson takes notes as Assemblyman Wesley Chesbro and former Hum. Co. Supervisor John Woolley offer information
"We've got to balance the budget," Assembly member Wesley Chesbro explained when he spent this afternoon updating the Garberville Rotary on various bills he is working on. In order to do that some tough choices have to be made, he added.
Chesbro, who worked with Southern Humboldt Unified School District to restore funding for school bus transportation, spoke about Senate Bill 81. He said that currently Governor Jerry Brown was talking about extending the funding through 2012-2013 school year. Brown, Chesbro said, was then planning on giving each district funding based only on the attendance at each school with additional funding only added based on the percentage of English language learners and percentage of low income students. Chesbro says that he is working on adding the additional exception based on density of population which would help rural schools that must bus small amounts of students over long distances.
He then moved on to speaking about the State Responsibility Area Fire Prevention Fee (SRA) in which a landowner is charged $150 for each dwelling on their property that falls into the state area of responsibility for firefighting (generally CalFire districts–look here to see if your property is affected.) He says that the fee is "inequitable" and a "rusted trailer in Honeydew and a million dollar home in Malibu" are charged the same amount and this is unfair. He has proposed a bill to address this with a sliding scale fee.
He then spoke about marijuana. He argued that Mendocino and Humboldt's attempts to bring the problems with the industry under control have not been made easier by the choice of Federal US Attorneys to go after the medical growers who have sought to become legitimate and regulated. He pointed out that Colorado has a statewide policy instead of leaving regulation up to individual cities and counties. He thinks California might need to adopt this model. He intends to co-author a bill for state wide regulations. He thinks this will "enhance environmental penalties to give law enforcement greater tools to target trespassing grows."
Chesbro took questions from the crowd. He addressed Prop. 13 which keeps land taxes the same as long as the land doesn't change hands. He pointed out that when corporations change hands that their properties don't so, in many cases, corporations are paying 1970 level taxes.
In discussing water diversion issues, Chesbro said he is sympathetic to farmers and wants to help but "If you can't plant a potato crop one year, then you can plant the next. But once the salmon are extinct, they are gone forever."
He also briefly addressed the issue of the new East West Railroad proposal saying that he was interested in seeing what came out of the local groups' investigations but he was concerned that the amount of commerce was too small to justify this.