Help! When Should I Call 911?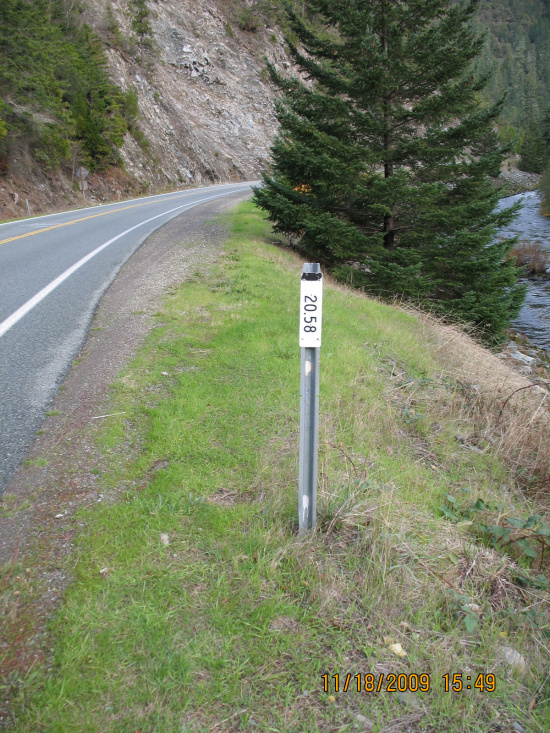 Driving late one night you see a vehicle broken down and a woman attempting to flag down help. Should you call 911? The answer depends on a few factors.
Before we go talk about what to do, first you need to understand how mobile 911 calls work. Except for in a very few cases, they are routed directly to the CHP dispatch. That means that the operator has very little idea where you are. Before you call, you need to be prepared to answer:
What your cell phone number is (so they can call you back in case you are disconnected.)
Where did the incident occur? (Look for the slender white mile marker posts along side the road. See photo above)
Mile markers often contain the name of the county, the road number you are on and they always contain the distance along a road you've traveled. They occur at each bridge, each whole mile and at each culvert. As they pass through a county, they start at zero at the south end of north/south routes and at zero on the west end of east/west routes. Hum-101-2.43 indicates that you are in Humboldt Co., on Highway 101, 2.43 miles from the southern border with Mendocino.
Other facts that can be very helpful for you to be able to give the operator are:
Who is involved?
What happened?
When did the incident occur? (In the case of the stranded motorist, the time you are calling is enough)
Calling a 911 operator unnecessarily can tie up a line that is needed for a true emergency so according to the CHP, call 911 when:
There is a life threatening medical emergency
There is a crime in progress
There is a reckless or suspected intoxicated driver. (Be sure to get the license number)
A serious traffic accident or incident is blocking traffic lanes
Any type of fire is seen – vehicle, structure or wildfire
A traffic hazard, disabled vehicle or debris is blocking the roadway
Officer Matt Harvey, Public Information Officer for the Garberville branch of the CHP says use "good judgement and good common sense" to dictate when you should stop to help any stranded motorist. "Don't stop," he says, call it in if you are concerned about your own safety.
So should you call 911 to get help for a stranded motorist like the one described earlier? Yes, if they are blocking the roadway or appear to be in a life threatening situation. Otherwise, no. Call 1 800-TELLCHP to get non-emergency help. But says Officer Harvey, "if in your mind you're not sure, call 911." Dispatch would rather get an unnecessary call than not get help to someone who needs it.
______________
Thanks to CHP site and Caltrans for their help gathering information. The Photo is from Caltrans.