Who Bombed Judi Bari?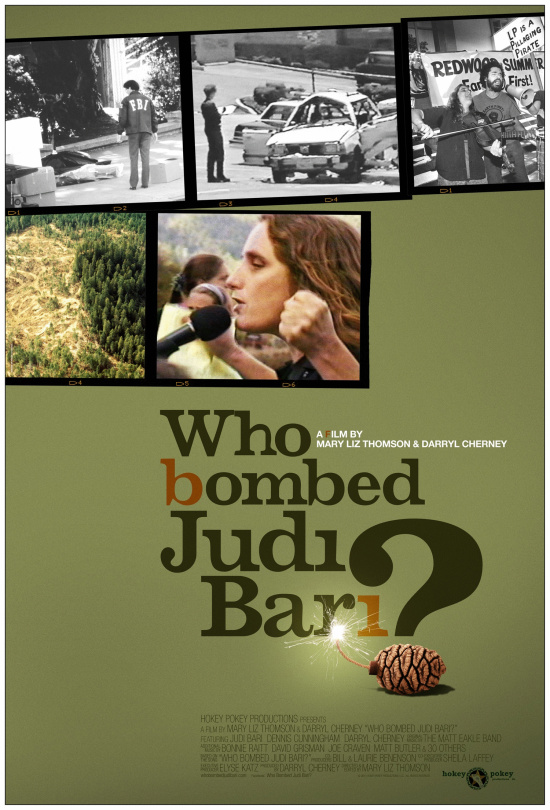 On the 13th and 15th, Who Bombed Judi Bari? the documentary about the unsolved 1990 Oakland car-bombing of Earth First!ers, Judi Bari and Darryl Cherney will be showing at the Garberville theater. There is a showing today at the Arcata Playhouse. (Yesterday's showing sold out.)
Press Release for the movie:
Who Bombed Judi Bari? is actually narrated by Judi Bari herself using footage taken at her deathbed testimony in her civil rights lawsuit against the FBI and Oakland Police. In 2002, a federal jury found 3 FBI agents and 3 Oakland officers guilty of violating Bari and Cherney's civil rights in order to silence them. Law enforcement falsely accused the Earth First!ers of car-bombing themselves while they were on a musical roadshow to promote a series of protests known as Redwood Summer 1990, which ultimately attracted thousands of activists.

With only 30 days left to live, Bari tells her life story while the movie flashes back and forward to illustrate the events she describes. Wherever Bari went, cameras followed. The movie covers her early days as a union organizer at the DC Bulk Mail Center, her agitating as a feisty feminist Earth First!er convincing loggers to join environmentalists in opposing corporate redwood logging, and her federal trial against the FBI and Oakland Police that was carried forth posthumously by her organizing partner Darryl Cherney.

Early praise comes from Ed Asner, who said the movie "transcends politics and will be appreciated as a well-told story and parable." Actor Peter Coyote remarked, "This film is… a graphic, factual display of criminality on the part of police in the service of big business. It got me angry, it made me sad, but above all it made me laugh like hell." "Before Occupy Wall Street," adds Producer Darryl Cherney, "there was Redwood Summer."

Bari and Cherney's lawsuit against the FBI continues to make news. In 2011, their legal team secured a stop order preventing the FBI from destroying evidence that could contain the bomber's DNA; and ordering it turned over to an independent lab for testing. The FBI is appealing the order. The movie is Executive Produced by Elyse Katz, Co-executive Produced by Sheila Laffey, and Co-produced by Bill and Laurie Benenson, all veteran filmmakers.
The documentary is controversial with Bruce Anderson of the Anderson Valley Advertiser claiming,
Darryl Cherney and the affiliated ghouls still profiting from the car bombing of Judi Bari in 1990, have now produced a hagiographic movie depicting themselves heroically NOT finding the bomber…. Cherney made a cool million off a phony federal lawsuit arising from the FBI's and the Oakland Police Department's bumblingly premature arrest of Bari and Cherney for knowingly transporting the device. ..
UPDATE: A rebuttal to Bruce Anderson's opinion can be found here.
After a long trial and long deliberations, the jury gave a stunning $4.4 million damage verdict in favor of Bari and Cherney, unanimously finding that the FBI and police had violated their civil rights by falsely arresting them and defaming them after the bombing. Fully 80% of the damages were for violating the pair's First Amendment rights, vindicating Bari and Cherney's claim that law enforcement tried to frame them for the bombing so as to discredit them and disrupt their political organizing in defense of the forests.
UPDATE: 4/3 : A Press Release by Cherney's attorney says,
Press Release from Darryl Cherney: In an order dated March 31, 2012 and released today, Honorable Claudia Wilken, United States District Judge of the Northern District of California, affirmed a March 21, 2011 Order by Magistrate Judge James Larson, directing the United States, through the FBI, to turn over evidence in the 1990 car bomb assassination attempt of Judi Bari in Oakland, CA to a third party forensic laboratory for independent testing.

"This is a historic and momentous development," said Ben Rosenfeld, attorney for plaintiff Darryl Cherney, Judi Bari's co-organizer in the sustained campaign to preserve California's ancient redwoods, who was also injured when the bomb went off. Cherney went to Court in 2010 to prevent the FBI from destroying the evidence. That evidence includes a mostly intact explosive device built by the same hands as the car bomb, as well as a cardboard sign, and latent fingerprints.

The FBI never subjected this evidence to basic forensic examination. Its lawyers contacted Cherney's lawyers in 2010 announcing plans to destroy the evidence. In 2002, an Oakland federal jury found three FBI agents and three Oakland police officers liable for violating Bari and Cherney's First and Fourth Amendment Rights by trying to frame them by falsely accusing them of transporting the bomb which nearly killed them. The FBI never looked elsewhere.

Cherney alone has continued to pursue the bomber(s). With co-Director Mary Liz Thompson, he just released a new documentary entitled Who Bombed Judi Bari? (<http://whobombedjudibari.com/>http://whobombedjudibari.com/). The evidence, hitherto sealed away in an FBI locker, may finally yield an answer to that question.

Request a copy of the Court order via one of the contacts above, or look it up on PACER under federal Case No. 91-01057 (Document Number 686). For historic information about the case, visit <http://www.judibari.org/>www.judibari.org/.