Bedsheets on a Bridge: Protests Meet Police in an Occupied America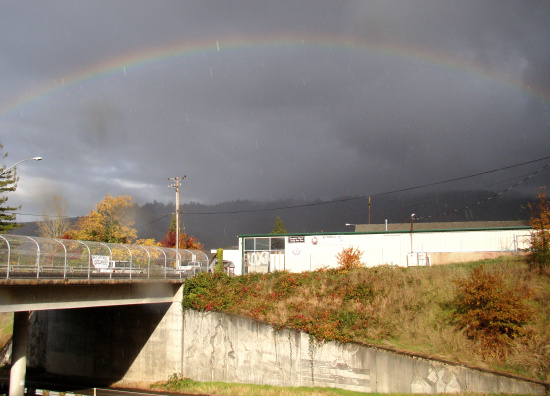 One hundred pounds soaking wet, Felix Omai (age 57), a Humboldt County photographer known for her memorable photos of the Dean Creek slide, doesn't strike terror into most people. But last fall, during a solo Occupy Movement protest, she frightened a CHP officer so badly, she says that he "just about punched" the camera she was trying to photograph him with back into her face.  She says her cheekbone was sore for weeks afterward. By the end of the encounter, Omai had broken ribs and was transported to Eureka jail.
The Occupy Movement has placed the people's right to protest in direct juxtaposition with law enforcement's need to protect the public and themselves.  Tomorrow in Garberville, Omai says she will face charges of resisting, obstructing and delaying a police officer stemming from this incident. Ironically, she won't be charged with the protest that brought her to the attention of law enforcement in the first place.
Last November 17th, Omai decided to show solidarity with the national Occupy Movement which was calling for an Occupy the Bridges day. She tore a bed sheet in half, painted each half with the same question, and, like a housewife intent on cleaning up a messy government, clothes-pinned each half to the Highway 101 overpass on the west side of Garberville.  She had "…made a feeble start of using Facebook" to gather like-minded folk for the protest but in the end found herself alone. The rainbow arcing overhead around 3:30 made what she calls "a lovely but lonely moment" that she couldn't resist photographing.
In a couple hours, Kate Michael from Caltrans came by to inform Omai that posting signs on overpasses is illegal. Omai began videoing the encounter with her camera. Omai says that the conversation was pleasant and she and Michael even shook hands but that Omai refused to remove the signs.  However,  "I wouldn't have interfered," she claimed, "with anyone else taking down the signs." Michael called the CHP. Two officers (Officer Scott Powell and Ross Crown) arrived in different vehicles and again asked Omai to remove the signs.
If only we could pause life's camera and look at this.  For here is one of the moments which our society must examine closely.  Which values do we want to take forward with us into the future? Which will we discard?
According to Omai, "Officer Powell and I didn't hit it off from the start." Omai concedes that she as well as the officer began to get frustrated with each other. She was unwilling to take down the protest signs herself and she says that they never attempted to take down the signs either. "It was all about making me do it," she claims.
One of the officers then asked if she was carrying any weapons.  According to Omai, she began to hand the bag she had to him with the sarcastic response, "Yah, sure." The officer jerked the bag from her and she protested hotly. But at the same time she felt she needed to tell him she did have a Leatherman with an inch and a half blade on her keychain. She didn't want to be accused of hiding the information.
Soon, in response to something he said, she told him, "You are a piece of work." She then raised her camera to take his photo.  According to her, "Officer [Powell] just about punched the camera into my face."  For weeks afterwards, her cheekbone where the camera hit her was sore.
According to Omai, the officer then threw her face down to the ground without even mentioning arrest.  He knelt on her back (breaking at least one rib) while the other officer stood on her ankles.  Officer Powell told her to give him her left hand which she claims was difficult because her arm was pinned between the railing and her body.  He then drug it backwards, scraping it until it bled, and restrained her.  Almost immediately, they took her to the local hospital. She says, "A CHP officer (higher ranked) came and photographed my scraped hand and the divots the handcuffs had made in my wrist, but he didn't photograph the blood soaked into the car's seat (as I had been handcuffed behind my back) or the blood on the paper on the examination room chair…………."
Her camera had been taken.  According to Omai, she saw officers examining it in the Eureka office but, although it works fine now, all the video that Omai had taken was erased.
Omai was never charged with her act of protest but only for her interaction with officers.
As a society, shouldn't we ask ourselves, if the protest itself is peaceful, then what is society gaining by having law enforcement respond so forcefully to a 57 year old, 100 pound woman hanging bedsheets on a bridge?
—-
Omai will be in the Garberville court this Friday morning, February 24th at 10 A.M.  Just as in her earlier court date, she welcomes anyone who would like to join her to show their support.
Top Photograph by Felix Omai