Plane Crash–Nose Down UPDATE-Pilot and Student from SoHum
UPDATE 3:08 P.M.: Humboldt Co. Sheriff Press Release:
On 2-3-2012, approximately 12:30 p.m., The Humboldt County Sheriffs Office was notified of an airplane crash at the Dinsmore Airport, Humboldt County. The plane was reported to have struck nose down, and had two occupants that were both injured.
Humboldt County Sheriff's Deputies and medical personnel were immediately dispatched to the scene, along with a California Highway Patrol Helicopter. A Trinity County Sheriff's Deputy was also dispatched to the scene to assist due to the proximity of the airport to Trinity County.
When deputies arrived they learned the plane was a Cessna Model 172 E, built in 1963. The plane crashed as it was landing, and is reported to possibly have stalled. Two Cal-Trans workers were working on Highway 36, and heard and saw the crash. They rushed to aid the injured pilot and passenger. They assisted with removing both victims from the plane before it caught fire and burned. The plane was piloted by a 65 year old male flight instructor from Garberville when it crashed. The other victim was a 30 year old male student pilot from Redway. The 65 year instructor was flown to Redding Mercy Hospital for treatment for broken bones. The student pilot received only minor injuries.
Mike Downey
Sheriff
UPDATE 2:54 P.M.: Photos from the scene of the crash: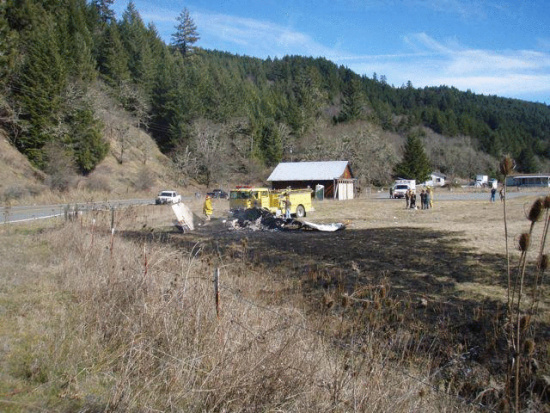 According to the photographer, Dottie Simmons, "The fuel was ejected burning for some distance….There is nothing left of the plane. But everyone will be OK. That is the plane owner talking to Sheriff Deputy." She also added, "It was 2 people, one with minor injuries and one flown out with moderate injuries, a few broken bones but, as far as I know, nothing extremely serious."
UPDATE 1:50 P.M.: KIEM is reporting,
Witnesses on the Scene say one person has been "life flighted" away from the scene. Reports are still coming into our newsroom but what we are being told is that plane was trying to land, flipped over and caught on fire.
UPDATE: 1:47 P.M.: The Humboldt Co. Sheriff Spokesperson Lt. Steve Knight says that "we just got on scene. No details yet."  I'll update as information comes in.

UPDATE 1:03 P.M.:
The Record Searchlight is reporting,
A California Highway Patrol accident web site, which lists the 12:27 p.m., incident as an aircraft emergency, reports that those who were on the aircraft are out of it and that there were injuries. The extent of those injuries were not identified.

Flames were visible and it was reported that 29 gallons of gas were on board the six-seat airplane.
—————————————
A plane is said to have crashed at the Dinsmore Airport.  Nosedown from first reports.  Southern Trinity Area Rescue refused to confirm or deny reports citing that there was too much happening at the time for them to respond to questions.  A resident though confirmed that "there was a plane incident" and said there were county vehicles etc. at the accident.