Humboldt: How Much Money Comes from Pot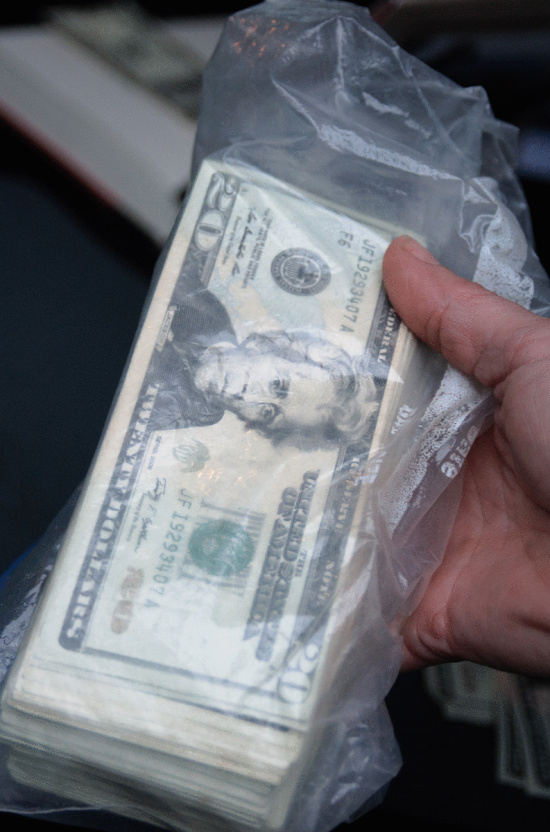 Bags and bags of money come into Humboldt via the underground marijuana economy. But how much money? There have been rumors for years that while most banks have to import cash from the Federal Reserve in order to meet the needs of their customers, Humboldt and Mendocino banks actually ship back cash—bags and bags of cash.
So how much money does Humboldt actually get from marijuana money? A million, 10 million, a billion? A radio show I'm hosting asked that question and got a surprisingly large number. Actually, we got a lot of numbers but all of them were large. Listen tonight on KHUM at 6 p.m. as The Humboldt Chronicles talks to an economist, a banker, a businesswoman and a grower about the money marijuana brings into this county and how it affects the life of people, like waitresses, who may never directly have anything to do with it.
One of our guests, Jennifer Budwig, a local banker, talks about how she came up with a very conservative estimate of how much money marijuana brings to our county. She took a basic piece of information, how many marijuana plants are seized in Humboldt. Law enforcement estimates they get 1-2 percent of all that is grown but she said let's be really conservative, let's assume they get a bigger percentage than they think. Let's assume they get 10 percent.
Law enforcement seizes about 200,000 plants annually, so that would meant that about 2,000,000 plants are actually grown. (See why she wanted to be conservative? Otherwise that would be 20,000,000 plants.) Then, for various reasons, she estimates 28 percent of pot grown is indoor and 72 percent is pot grown is outdoor. She uses another conservative estimate to figure out how much pot comes from each plant. (We go into the calculation a bit on the show.) But she basically says,
Indoor is 1 lb. per 10 plants x 3 harvests per year at $2,500 per lb.

168,000 plants = $420,000,000

Outdoor is 1 lb. per plant x 1 harvest per year at $1,500 per lb.

1,440,000 plants = $2,160,000,000
And she comes up with the big number of $2,600,000,000. Yes, that is 2 billion, 6 hundred million. Not all of that is spent here in Humboldt, of course — think vacations, think items bought elsewhere, etc. Remember, the total economy of Humboldt is only a little over $4 billion.
Wow! What do numbers like that and numbers like those of economist Erick Eschker — his estimate, while under a billion, is still a very large number — mean for Humboldt County, especially if the price drops?
There are four proposed initiatives to legalize marijuana for this fall's ballot. Prices plummeted when Prop. 19 to legalize marijuana was on the ballot in 2010. What will happen to prices this year? And what will that do the businesses near you?
[youtube http://www.youtube.com/watch?v=cFTb33HNf5U]